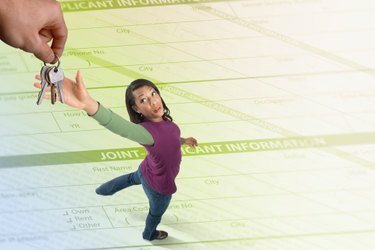 The Federal Housing Administration has helped Americans obtain affordable mortgages since its inception in 1934. FHA protects lenders by reimbursing them in the event of homeowner default, making them more willing to lend to people with less-than-perfect credit. It's an agency within the Department of Housing and Urban Development (HUD) which collects data, including average credit scores, for its borrowers. The average FICO score for FHA refinances and purchases has increased over the years.
The Basics
FHA has a two-tier credit score system for insuring loans. First-tier loans require a minimum down payment of 3.5 percent, while second-tier loans require at least 10 percent. The first tier includes those with FICO scores of 580 or above, while the second tier includes those between 500 and 579. FHA does not insure loans with anything below 500.The minimum down payment is based on the lesser of the middle credit scores for all borrowers. For instance, a borrower with a tri-merged FICO report with a mid score of 753 and a co-borrower with a mid score of 570, must make at least a 10 percent down payment.
Data
According to a 2011 FHA outlook chart by HUD, the average FICO score on single-family home purchases in January is 703, up from 702 in December 2010. The average credit score on single-family home refinances through FHA is 707, up from 705 in December 2010. In October 2010, HUD notes that "for the first time the average FICO score for insured cases reached the 700 level — actually 702." The average score continued to increase slightly in the following months for both purchase and refinance transactions, according to HUD data.
Considerations
Manual underwriting serves as a better deterrent for mortgage fraud than automated underwriting systems do, according to Housing Wire. Also known as digital underwriting, the process of analyzing borrower credit qualifying criteria with electronic software programs is used by FHA and conventional mortgage lenders. FHA's method, Technology Open To Approved Lenders (TOTAL), had a fraud rate of 3.76 percent out of a pool of 20,000 FHA loans used for home purchases from 2009 and 2010. The average FICO score for the fraudulent loans was 711.
Expert Insight
FHA narrowed the FICO score gap between its excellent- and fair-rated loans in 2010, according to Housing Wire. The mortgage quality-control firm that supplied the data, Quality Mortgage Service, reports that in 2006, the average FICO score for FHA-insured mortgages ranked "excellent" was 665, and 603 for "fair" loans. This 62-point gap fell to a 19-point difference four years later. Data shows excellent loans as of late 2010 had average scores of 707, while fair loans had a score of 688. "This is good news for investors because of the increased number of loans going for securitization," says a Quality Mortgage Services executive.