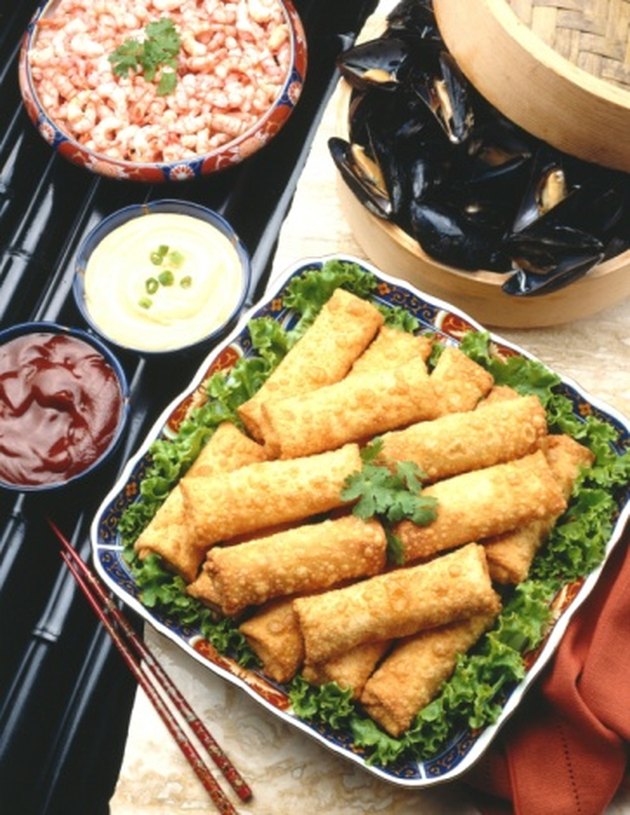 Finger foods are a convenient way to serve food at social functions. They are welcome at parties, receptions, picnics and even in lunch boxes. Using finger foods means less mess and cleanup since you don't need knives and forks and heavy dinnerware. They require only small plates and napkins. Finger foods come in all shapes, sizes and flavors.
Pockets and Pillows
One of the best ways to make a finger-friendly food item is to enclose it in a pastry shell. Meat-filled empanadas and pasties allow diners to nibble and wander about at the same time. Empanadas are a Latin specialty and pasties came from the Cornish area of England. Egg rolls hold savory cabbage mixtures and are especially delicious when dipped into teriyaki, orange or soy sauce. Puff pastry serves as a shell for the sweetened fruit fillings of turnovers. Guests at parties enjoy phyllo purses, elegant and crispy hors d'oeuvres made of phyllo dough and a variety of cheese, meat and vegetable fillings. These delicacies are formed by pulling a square of dough up around the filling, pinching and pressing the dough to hold it in place while cooking.
Pinwheels and Roll-Ups
Some finger foods are made by rolling them to encircle their fillings. One of the simplest to make is the flour tortilla pinwheel. Flour tortillas are spread with a mixture of cream cheese and whatever savories you care to include, then rolled up tight, covered in plastic wrap and chilled in the refrigerator. Finely chopped ham and green onions are a typical spread, but thinly sliced green olives or a mixture of cream cheese and green olive tapenade are tasty too. Once cold, they are sliced and resemble pinwheels. Pigs in a blanket make a traditional roll-up. Tiny sausages, called cocktail sausages, are covered with bits of biscuit dough, leaving the ends open. Ketchup, barbecue sauce or any other favorite dipper goes well with these.
Sticks and Toothpicks
Lots of foods are served on a stick or toothpick. Corn on the cob, satay, rumaki and devils on horseback are served with these holders. Rumaki is made by wrapping chicken livers in bacon, while devils on horseback are stuffed dates wrapped in bacon. These savory treats would be too greasy to eat with the fingers, so toothpicks turns them into convenient finger foods. Several cocktail foods are served with toothpicks, including cheese cubes, small meatballs and bits of fruit. A particularly festive item is large shrimp skewered, dipped in batter, rolled in shredded coconut and then fried. Serve these with a pina colada sauce or a spicy orange marmalade sauce. For a casual get-together, hot dogs are skewered, dipped into batter and then deep fried to make corn dogs.
Sweet and Salty Nibbles
Snack foods are generally finger foods. Some are sweet and some salty, and some combine salt and sugar for a taste sensation. Trail mix is made of a variety of nuts, cereal items and small candy-coated chocolate bits. Cheese straws are simple to make, since they have only three ingredients: flour, butter and cheese. Some cooks add a touch of cayenne pepper to the dough before it is rolled out or put through a cookie press. This snack food has a cracker-like consistency. Sweet pecan tassies are miniature pecan pies formed in mini-muffin tins. Other sweet finger foods include cookies and bar cookies.
Main Course Finger Foods
Some main dishes are eaten with the fingers, most often in an informal setting. The finger-licking dinner star is fried chicken. Its portability makes it a natural for picnics. Tacos and burritos are savory finger foods, as are pizza, burgers and hot dogs. Regular pastry can be fitted into mini-muffin tins, filled with quiche ingredients and baked. Spinach, bacon, onion and Swiss cheese are traditional quiche components along with milk or cream and eggs, but other choices that work well in these tiny pies are various combinations of cheddar cheese, leeks, seafood, feta cheese, ham or mushrooms.