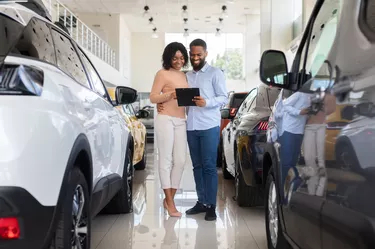 To decide between a 36- and 39-month lease option, consider your monthly payment amount, warranty coverage, maintenance schedule and vehicle needs. While three months may not seem like much of a term difference, you may find yourself outside of the vehicle's factory warranty period.
Vehicle repairs and maintenance are your responsibility while leasing. Looking at the differences between a 36- and 39-month car lease will help you decide which is best for your situation.
Check the Monthly Payments
Sometimes the payment for a 39-month lease is cheaper than an alternative 36-month option. Your monthly leasing payment is based on expected depreciation of the vehicle, which depends on the mileage and term that you choose. The manufacturer calculates the car's value at the end of your lease contract, and sometimes the extra three months makes a difference.
If you want a lower monthly payment without providing an extra down payment, you may have to pursue the 39-month term option. If you're planning on extending the lease or leasing a new vehicle from the same dealer, you might be able to negotiate a better deal.
Before you decide on a lease length, make sure you understand what you need to know about the warranty on a leased car and how different lease periods might affect its coverage. During a lease, you are responsible for all vehicle repairs, so ensure you stay under the vehicle's bumper-to-bumper warranty period during the lease period.
Manufacturers offer two warranties on vehicles: a bumper-to-bumper warranty, which covers just about anything that breaks or doesn't operate properly in your vehicle, and a powertrain warranty, which covers major components of the transmission and engine.
Powertrain coverage often exceeds bumper-to-bumper coverage for many new cars. If your bumper-to-bumper warranty is limited to 36 months, choose a 36-month term. Otherwise, consider purchasing an extended warranty to cover possible repairs so you don't have to pay out-of-pocket if something breaks, advises Bankrate.
Consider Maintenance Costs
Check your vehicle's required maintenance schedule over to determine how much you'll pay to maintain the vehicle for the extra three months. Depending on the mileage you choose for your lease, you may have to pay several hundred dollars for an extra maintenance appointment.
Check with the dealership's service department to obtain a maintenance schedule and determine costs. Also compare the price differences between the 36- and 39-month lease payment option. For example, if it costs ​$250​ for the extra maintenance appointment required for a 39-month lease, but the 36 month lease option is ​$10​ higher per month, it's cheaper to pursue the 39-month lease as you'll pay ​$360​ more over the term of the lease.
Will You Renew the Lease?
If you consistently lease a same-make vehicle, the three extra months probably won't tie you down to your lease contract. Many banks offer some kind of lease pull-ahead program, which allows you to end your lease early if you lease or finance through the same bank again.
Many dealers are willing to work with buyers to end a lease three months early as well. If you want to lease or purchase a vehicle from a different-make dealer, the dealer may pay your last three lease payments to terminate your contract and sell you a new vehicle.