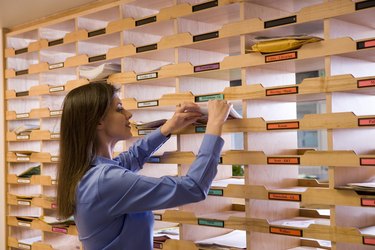 Globe Life Insurance has been in business since 1951 and now provides life insurance for nearly 4 million people. Globe Life offers different ways for you to pay your premium at your convenience so that you can rest assured that your loved ones will be covered if the worst occurs.
Premium Notice
Current policyholders receive an automated generation of their premium notices according to their billing cycle. Policyholders can also log onto the Globe Life website and view their current premium and their policy once they register for an account. To register for an account, input your policy number, your last name and your date of birth on Globe Life's payment website.
Online Payments
Globe Life provides an eService Center tool that policyholders can log onto to pay their bill online. From the homepage, choose whether you want to log in if you have an existing account or to register for new account. Click on the option to "Make Payment Online." The site allows you to use a checking account, savings account, MasterCard or Visa credit card or debit card. Enter your financial information and the effective date for the transaction before clicking on "Submit." You can also choose to make an automatic draft for future premium payments from this screen.
Phone Payments
If you want to make a payment quickly before your policy lapses and don't have Internet access, you can make a phone payment. Call 1-800-654-5433 Monday through Friday between 7:30 a.m. and 4:30 p.m. CST. You will need to provide the customer service representative with information to validate your identity, your policy information and your financial information.
Payments by Mail
If your life insurance premium winds up in your bill basket, you can mail in your payment. Include your policy number on your personal check or money order along with your statement and mail it to Globe Life and Accident Insurance Company, Globe Life Center, 204 N. Robinson, Oklahoma City, OK 73184.