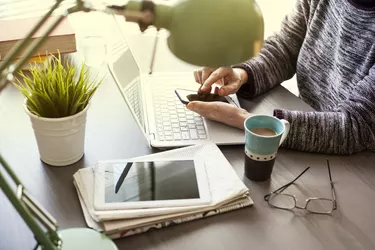 Unemployment benefits are paid when you lose a job, it's not your fault and you meet state earnings or time worked requirements. However, all states require that you file a weekly or biweekly claim for your benefits and update your job search and earnings information. If you don't file on time, you'll probably lose benefits for at least a week.
Filing Regular Claims
Unemployment benefit recipients must file a claim after the end of each week or every other week. When you file, you usually report job applications you submitted and any job offers you received, but some states have waived these requirements during the COVID-19 pandemic. If you had any earnings from work, they also must be reported.
In most states, you can file a weekly claim online or by telephone. State unemployment agencies use this information to determine if you are eligible for benefits and how much you should receive.
Failure to File
If you miss filing a weekly claim for unemployment benefits, you usually lose them for that week and possibly longer. State agencies are strict about deadlines. If you file even one day late, you need to contact the state agency and ask for benefits to be restarted. If you are just a little late, this isn't usually a problem.
However, in California, someone who certifies 14 days late risks losing their benefits altogether. So, if you miss filing for several weeks, your case may be closed, and you will have to reapply for unemployment benefits.
Claim Filing Timetables
Deadlines for claiming weekly unemployment benefits vary by state. For example, the reporting week ends at midnight on Saturday in Vermont and Virginia. You must file your benefit claim by 4:00 PM on the following Friday in Vermont. In Virginia, you have 28 days from the end of the week to file your claim. However, the Virginia rules also say you can lose benefits for every week you fail to file until you contact the Virginia Employment Commission to restart your benefits.
Missed Deadline Exceptions
Most state unemployment agencies pay benefits even if you miss making your weekly claim on time provided you can show sufficient cause for the failure to file. For instance, in California if you or a member of your immediate family is injured or sick, you may not be penalized for a delayed filing. A natural disaster that prevents you from filing is another acceptable reason. So are events that can't easily be postponed or avoided, such as funerals or court appearances.
In addition, if you are late filing because you received incorrect information from the unemployment agency or there was an error processing your claim, you won't lose any benefits.