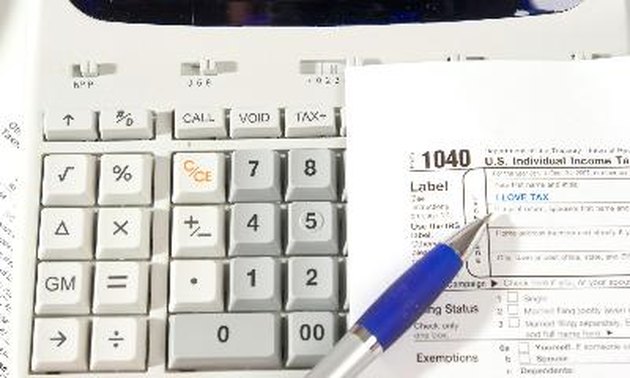 The Internal Revenue Service provides a list of common errors people make when filing tax returns. According to the IRS, there is no need to amend returns if your form contains incorrect math, since IRS service center employees often correct math errors. If you forgot to attach forms and schedules to your original return, the IRS usually sends a letter requesting the documents. The IRS does require an amended return if your original return contains errors in your filing status, income, credits, deductions or dependents.
Form 1040X
The IRS requires you to use Form 1040X, the Amended U.S. Individual Income Tax Return, to file a correction to your original return. Form 1040X provides an area for you to explain why you are filing an amendment to your tax return. Instructions for Form 1040X provides detailed information for completing the amendment form. The IRS requires taxpayers to file separate forms, with the year noted on the form, for each year to be amended. The forms must be mailed in separate envelopes, as well.
Amendment Process
The IRS makes adjustments automatically to correct interest and penalty amounts on amended returns. Your amended return should include the appropriate schedules and forms. If your amended return results in you owing additional taxes, you should file the amended return and pay the tax by April 15 of the following year to avoid interest and penalties. If deadline dates fall on Sunday, Saturday or a legal holiday, the due date changes to the next business day. Form 1040X instructions lists the services center addresses for mailing the amended return. Processing time for a Form 1040X usually takes eight to 12 weeks from the date the form is received by the IRS.
Additional Refund Claims
If you amended return results in you being owed an additional refund, the IRS advises you to wait until you receive your original refund before filing the amended return, although you may cash any refund check you have already received. In most cases involving additional refunds, the IRS requires taxpayers to file a 1040X within three years of the filing date of the original return or with two years from the tax was paid, whichever is later. The deadline dates do not apply to amended returns concerning certain types of claims.
State Filing Errors
States have different processes, and forms, for filing amended tax returns to correct original returns. If you are amending your federal tax return, the changes may affect your state return. Your state department of revenue can tell you if you need to file an amended return based on changes to your federal return.
Tips
The IRS updates the form and instructions each year to help filers locate the appropriate information, such as deduction amounts and tax tables, for the filing year you are correcting. The IRS provides the amended tax return form and the instructions on its website. You may also contact the IRS to request the forms. You cannot file an amended tax return electronically.