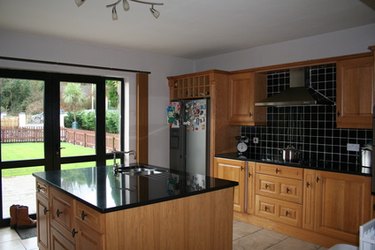 When it comes to remodeling or refurbishing kitchen countertops, it helps to think creatively. You have the option to incorporate reasonably priced new countertop materials or employ do-it-yourself methods of resurfacing existing countertops. Choose options based on the colors or patterns that will work in the existing space.
Reuse and Recycle
Check secondhand building supply outlets for countertops made from a variety of surfaces. New countertops incorrectly cut for kitchen remodels, big box overstock counters, display store samples and gently used countertops removed to make room for new kitchens are often found at highly discounted prices. Make any necessary minor repairs and put in sweat equity time to make appropriate choices work in your kitchen.
Laminates
Look to laminates as an inexpensive option for countertop refurbishment. Modern laminates are typically less than half the price of trendy natural stone or granite . Laminates have come a long way in recent years. The options are offered in hundreds of colors, patterns, textures and finishes that lend a polished look to a kitchen. Keep laminate cost down even further by searching for discontinued patterns or buying from building supply warehouses instead of design showrooms.
Paint
It is possible to paint existing flat countertop surfaces. Thoroughly clean the counters before refinishing to remove any stains or spots of kitchen grease or oil. Lightly sand the counter before applying paint. Oil paint works best for the project. Begin with a base color and use faux painting techniques or stencils to create a unique design. Allow each layer of paint to dry completely between coats of faux finish applications. Coat the finished project with three to four coats of clear floor urethane.
Finished Wood
Butcher block and other thick hardwoods can be cut into shapes appropriate as kitchen countertops. Get creative in selecting raw wood that you cut and finish or purchase pre-cut wooden countertops suitable for your kitchen. If you choose to cut your own wood or use reclaimed wood, seal it properly using non-drying oils or wood sealers suitable for the type of wood and eventual kitchen use. Keep the wood scratch free by using cutting boards for kitchen cutting chores.