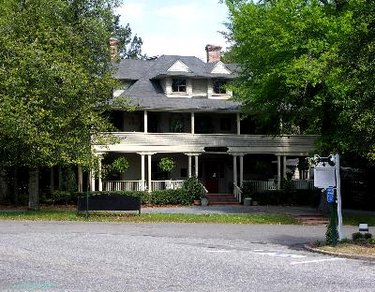 According to the National Association of Realtors (NAR), the term "realtor" identifies real estate professionals who are members of the organization. The NAR includes in its ranks over one million members who must abide by its code of ethics. Realtors work on a commission basis, earning a fee when successfully completing a real estate transaction. Realtors represent both buyers and sellers in both residential and commercial transactions.
NAR Income Data
A 2006 NAR survey reported that realtors with fewer than two years of experience earned a median of $15,300. New realtors earned substantially less than the $47,700 median income reported by all NAR members. The NAR's manager of real estate research explained that realtors earn little income in their first few years in the business as they must build up contacts and a reputation in the community.
Effect of Home Prices
Geography and home values will affect new realtor earnings because of the commission-based nature of the job. For example, homes values in California exceed most other areas of the country. New Century Online, a California broker, reports a 2010 earnings range for first-year agents of $30,500 to $49,100. The San Francisco Chronicle reported in 2004 that new agents may earn less than $35,000.
Start-Up Costs
New realtors must prepare to pay numerous expenses. For example, according to New Jersey real estate broker Weichert Princeton, start-up costs for new realtors would include real estate school ($349), the New Jersey state examination ($65), a real estate license activation fee ($160), fingerprinting ($78), an errors and omissions insurance policy ($599), local county realtors association fee ($366), Multiple Listing Service dues ($265) and training materials ($129). New realtors should also be prepared to spend $200 per month for personal marketing.
Working With a Broker
According to RealtorMag.com, four or five experienced agents will generate the same income as 25 new agents. New realtors must be ready to market themselves and display their special talents and skills. Realtors should market their knowledge of the area and their business and personal contacts who may want to sell or buy a home. Brokers lose money advancing costs to agents who do not ultimately bring in sales.