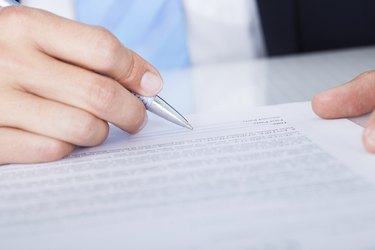 If a disaster damages or destroys your home, the renovations and reconstruction must meet current building codes and regulations. Older homes likely do not meet these standards, meaning their owners can face hefty bills to upgrade. Standard homeowners insurance normally won't help you meet the costs to comply. You can turn to law and ordinance coverage to fill this gap.
Normal Policy Exclusions
Your basic homeowners policy exists to restore the home to the condition it was in before the calamity. If the policy covered losses and extra costs caused by regulations that didn't exist when your home was built, you would get a windfall by having a better home than before the peril happened. The insurer would be concerned that you would have an incentive for a loss. Thus, you need law and ordinance coverage to pay for the current costs of bringing a damaged building to current codes and laws. States such as Florida and Colorado require homeowner insurance companies to offer law and ordinance coverage.
Forced to Tear Down
Typically, local ordinances require the demolition of a building that has sustained a certain level of damage, such as 40, 50 or 60 percent of its value. In such a situation, your building is treated as a total loss even if part of the building was not damaged by an event. Thus, law and ordinance coverage will pay you for the loss of the undamaged as well as the damaged parts. You also get reimbursement for the costs of tearing down the building and clearing the site.
Forced to Upgrade
The increased costs of construction coverage applies when you have to repair or rebuild to current building codes and laws. For instance, you could be reimbursed for the cost of having to move your home's foundation because a local ordinance requires your home to be further away from the road than it is located. To get upgrade benefits, you must continue to use the home, and your zoning ordinance must allow that use to continue.
What's Excluded
To have law and ordinance coverage provide benefits, your home must have been damaged because of a peril covered by insurance, such as a fire or storm. The insurance excludes your losses or costs if the building code or law itself is the cause of the need for repairs, such as when you're ordered to remove a home or addition that violates a setback or federal floodplain rules. Also, don't expect law and ordinance insurance to pay if your building is contaminated by pollution, bacteria, rot or fungus.