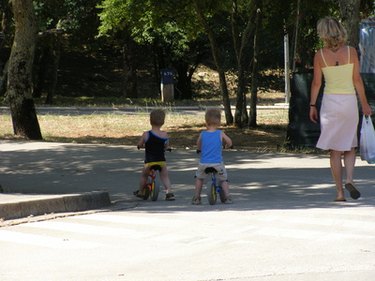 In certain circumstances, children can receive Social Security benefits based on their parents' status. In general, children whose parents are retired, disabled or who have died can receive Social Security benefits through the completion of high school.
Who is Eligible?
In order to be eligible for Social Security benefits, a child must have a parent who is either retired or disabled and is receiving their own Social Security benefits. A child is eligible for survivors benefits if a parent has died and paid in to Social Security while alive. Children eligible based on the above criteria must also be unmarried and 17 or younger. Children who are 18 and 19 year olds are eligible if they are still in high school. Children 18 and older who are disabled are also eligible.
How to Apply
Apply online for Social Security benefits for an eligible child, but take documentation in to your local Social Security office to finalize the application. Required documentation includes the birth certificate of the child and Social Security numbers for the child and the parents. If applying for the survivors benefit,provide the death certificate of the deceased parent. Disability benefits will require medical proof of disability signed by a physician.
How Much are the Benefits?
The amount of Social Security benefits that a child is eligible for depends on the parents' benefits. A child is eligible to receive half of the parent's retirement or disability benefits and 75 percent of what the deceased parent would have been eligible to receive, as of 2011. However, there is an overall family maximum for child benefits. Together, all of the eligible children in the family can receive a total of 150 percent to 180 percent of a parent's retirement, disability or survivor benefits. For example, if the family consists of four children under the age of 18 and their disabled parent is receiving $1,200 in disability benefits, each child would be eligible for $600, for a total of $2,400. However, the cap limits total child benefits to 180 percent of $1,200 or $2,160. Each child would receive up to $540.
When to Contact the Social Security Administration Office
Any time there is a change in status of either the parent or the child that affects Social Security benefits, the SSA should be contacted. Child benefits for non-disabled children will stop at age 18 unless the office is notified that the child is still in high school. They will require documentation from the school that the child is in regular attendance, and then benefits will continue until age 19. The SSA must also be contacted upon the death of either the parent or the child.