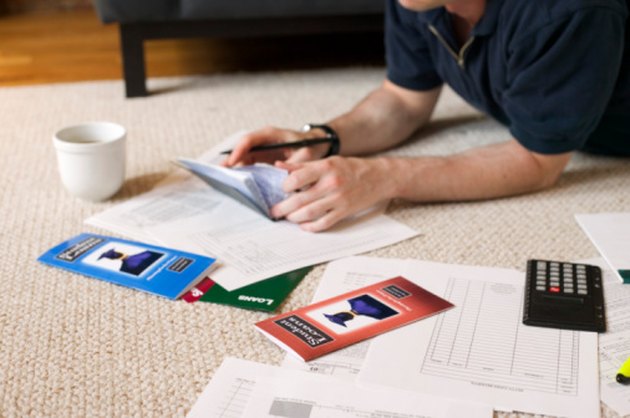 To offset the high cost of post-secondary education, the Internal Revenue Service allows a tax deduction for student loan interest to individuals with qualifying loans. Knowing if your loan qualifies for the deduction, if you are eligible to deduct the interest and how to deduct the interest can save you money on your income taxes.
Requirements
In order to deduct the interest on a student loan, the loan must be in your name. For example, even if you pay the interest on your child's loan, you would not be able to deduct it because the loan is not in your name. However, if you take out a loan in your name to pay for your dependent child's education, you would be able to deduct the interest that you pay on the loan.
Restrictions
The IRS prevents certain people from deducting student loan interest they would otherwise be eligible to deduct based on their filing status or income. You cannot deduct student loan interest if your filing status is married filing separately. In addition, if your modified adjusted gross income exceeds the annual limits, you cannot deduct student loan interest. As of the 2010 tax year, if your modified adjusted gross income exceeds $75,000 ($150,000 if married filing jointly), you cannot deduct the interest.
Size Limits
The IRS limits the amount of student loan interest that you can deduct from your income tax return. As of the 2010 tax year, you cannot deduct more than $2,500 in student loan interest. This limit applies to the combined interest paid on all of student loans, whether they are for your dependent, multiple dependents, yourself or your spouse.
Claiming the Interest Deduction
To claim the student loan interest deduction, file your taxes using either Form 1040 or Form 1040A. You do not have to itemize your income tax deductions to write off student loan interest. On Form 1040A, report the deduction on line 18. If you use Form 1040, report the deduction on line 32.