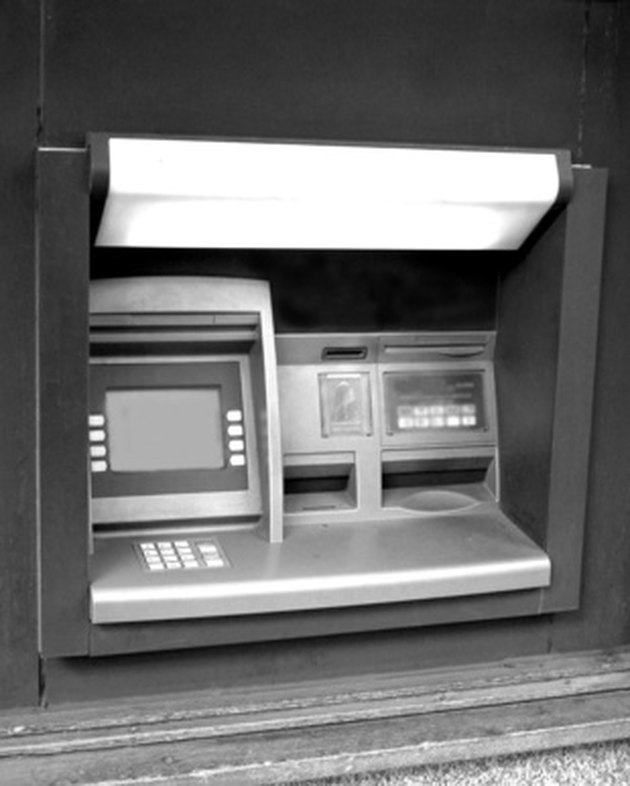 No matter how much money you have in the bank, it's important to safeguard your ATM card. If you lose this card, or if it's stolen, a thief could use it to make unauthorized withdrawals from your account. If your ATM card carries the Visa logo, a thief could also use the card to make purchases at local and online merchants, even without knowing your PIN. If your card is lost, you must contact the bank immediately to report the loss. You can still get cash while your lost card is being replaced, but you need to visit your local branch to get it.
Visit Your Branch
If you need to withdraw money before you receive your replacement ATM card, visit your local branch and give your account number to the teller. You have to supply photo ID to verify your identity, and the teller compares your signature to the signature card on file to ensure you're the registered owner of the account.
Write a Check
You can continue to write checks against your account while your ATM card is being replaced. Be sure to sign and date each check before you send it, and watch your bank statement carefully for any fraudulent charges. If the person who finds your lost ATM card attempts to use it, any transactions show up on your monthly statement. Contact the bank immediately if you spot any suspicious activity on your account.
Replace Your Card
While you're at the bank, request a replacement for your lost or stolen card. When you complete the paperwork to report your card lost, you can also request that a replacement card be issued. That replacement card is then mailed to your home, typically in an envelope that doesn't contain the name or return address of the bank. You should receive a separate mailing a few days later with your temporary ATM PIN. You can then take the ATM card and the PIN to a local branch and select the personal identification number of your choice.
Complete a Lost Card Form
Your bank might require you to complete a special form verifying that your ATM card has been lost or stolen. Contact your bank the minute you realize your card is missing. Even if the bank is closed, banks usually offer a special toll-free number you can use to report the loss or theft of your card. You can find this phone number on your bank statements and possibly on the bank's website as well. Reporting the loss of your card promptly protects your rights and limits your potential losses in the event the card is used fraudulently or a thief attempts to withdraw money from your account.