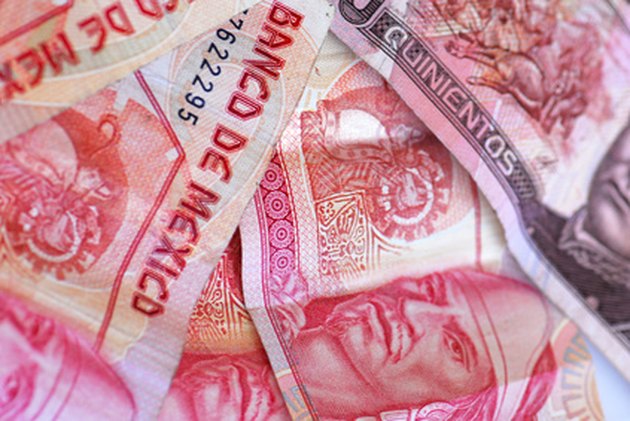 If you are planning a trip to Mexico, you will want to buy the local currency -- the peso. It's normally a better deal to purchase the pesos when you arrive in the country, but you can also obtain them before the trip if you'd prefer. Mexican pesos come in bills of 10, 20, 50, 100, 200 and 500 denominations. There are 100 centavos in one peso. As of January 2011, 1 Mexican peso is the equivalent of 0.0817 U.S. dollars. Monitor exchange rate fluctuations before buying to ensure you are getting the best possible rate for your dollar.
Step 1
Determine the currency exchange rate for Mexican pesos at a website such as XE.com. The peso is a free-floating currency, meaning the rate can vary. Compare the current rate to ensure it has not suddenly dropped. On XE.com, click on the chart after converting to view recent fluctuations.
Step 2
Shop around for the lowest exchange and shipping fees. Examples of websites that sell pesos include Travelex Foreign Exchange and Oanda FXGlobalTransfer. For example, as of January 2011, Oanda FXGlobalTransfer offers a flat fee of $25 to purchase pesos. Most transactions to U.S. bank accounts take two business days or less.
Step 3
Visit retail or auction websites offering antique Mexican pesos as well as rare modern pesos. Some examples include Provident Metals and eBay. To purchase on the Provident Metals website, for example, mouse over "Foreign Coins" and select "Mexico." Browse the selection of pesos available, review all information and follow the instructions to purchase online.
Tip
Allow yourself at least one week before your trip for purchasing pesos online to avoid paying rush delivery charges.
Alternatively, exchange your dollars for pesos upon your arrival in Mexico. You will typically receive a better exchange rate.