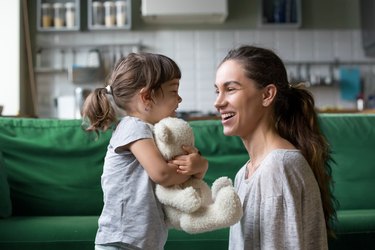 Although police officers are most often associated with law enforcement, they perform many other services that benefit the health and well-being of their community. One of these is the welfare check, which allows concerned friends or family members to confirm someone's well-being through an officer visit to the person's home. Most police departments provide crisis training to help officers deal with physical or mental health issues they may encounter when conducting welfare checks.
Calling Police to Check on Someone
It can be frustrating and even frightening to not be able to contact a friend, neighbor or loved one who typically stays in touch, especially if they live some distance away. In situations where you fear that some catastrophe has occurred or that the person is in real danger, you can request a welfare check from their local police department. An elderly neighbor who hasn't been seen and doesn't respond to phone calls or knocks at the door is an example of a welfare check situation. A relative away at college who has posted suicidal messages and has stopped communicating is another.
The ability to request a police officer to check on someone's welfare has been around for some time, but the service is getting increased attention in the media due to welfare checks on celebrities, including a welfare check on television host Wendy Williams to affirm that she wasn't being harmed by her husband, Kevin Hunter.
In another famous case, Saturday Night Live cast member Pete Davidson received a welfare check from New York City police after posting a suicidal message on Instagram. These celebrity cases highlight the fact that a police welfare check usually becomes part of the public record, something that may not be desirable for the person who is being checked.
Police Phone Number for Welfare Check
Unless there is an emergency situation, most police departments take welfare check requests through their non-emergency number. The person requesting the welfare check will be asked why they are concerned and what they have done to contact their friend or relative. This avoids the crisis escalation that can occur if you call 9-1-1 for someone who is having mental health issues and the officers who respond have limited information about the situation.
College or University Welfare Checks
Leaving home for the first time to attend college can be overwhelming for some students. Most colleges and universities that provide student housing will perform welfare checks when friends or relatives are concerned about a student who has gone missing. The checks are typically performed by campus security services and do not involve local police unless there is a crime, serious injury or death involved.
When to Request a Welfare Check
A welfare check should be used when normal channels of communication have failed. Changes in patterns of normal behavior are another sign that someone may be in trouble. For example, an elderly relative who usually calls weekly stops calling and doesn't answer their phone is a candidate for a welfare check.
The threat of suicide is one of the top reasons that welfare checks are requested. However, law enforcement intervention may be needed rather than a welfare check if violence is involved. Accidental drug overdoses are another leading cause of police welfare visits. People who are elderly or disabled and living alone are also frequent subjects of police welfare checks.
Welfare Check Legal Considerations
Once police are told that someone in a home may be in danger, they are allowed to enter to perform a welfare check. No search warrant or court order is required. The person who requested the check usually does not remain anonymous and in many cases may be asked to accompany police on the welfare check visit.