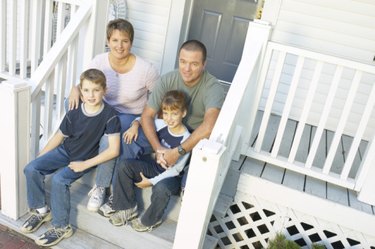 The U.S. Federal Government's Section 8 Housing Choice Voucher Program helps low-income families, disabled individuals and the elderly afford to live in safe, clean and decent housing in the private sector. There are waiting lists for these homes, so you should check on your Section 8 application from time to time. To do this, you must contact the same office that you applied through: your local public housing agency (PHA).
Check on Section 8 Application
Do you need to check on Section 8 applications? According to the U.S. Department of Housing and Urban Development (HUD), these vouchers are administered by PHAs, and the HUD website has a page that lists local PHA offices in all 50 states. You can contact your local office to get help. Just ask "Can I check my Section 8 status?" They should be able to direct you to the right person for assistance.
The demand for Section 8 assistance frequently exceeds the supply, so it is not unusual to have a long waiting period. Sometimes, PHA offices are forced to close their waiting lists when there are more families on there than can be helped in the near future.
If you get put on a waiting list, this does not guarantee Section 8 housing assistance. You can check your local office's website or call them for status updates. Make sure to contact them if any of your information has changed, such as your contact information, marital status or the number of household members. Keep in mind that if they are unable to reach you or if you do not update this information, you could be removed from the list.
Area PHA offices often use local preferences to determine which applicants are selected from their waiting lists. This can be based on need; for example, a homeless family could be chosen before a family living in a substandard home. Others who might be chosen sooner could be an involuntarily displaced person or a family paying ​over 50 percent​ of their income for rent. These decisions are left up to the individual offices. If you call to check on a Section 8 application, the office may be able to provide you with more detailed information about their waitlist.
Am I Eligible for Section 8?
Section 8 eligibility is based on family size and total yearly gross income. To apply, you must be a U.S. citizen or a noncitizen with eligible immigration status. You must also be at least 18 years of age. Individuals and families are welcome to apply. The PHA office also considers an applicant's criminal history – this can make it more difficult to get on the waitlist; sex offenders and those convicted for other serious felonies will not qualify.
The offices also consider applicants' credit histories. Someone who is in debt to a housing authority or who has been evicted for not paying rent may also be ineligible. It is also possible to apply to more than one waiting list if you are flexible about where you can live. You will have to check on all the Section 8 application waitlists when you contact the offices, so let the representative know how many you are waiting on.
Once a family has been approved for a housing unit, a one-year lease must be signed with the landlord. There may also be a security deposit that needs to be paid. The family must comply with the terms of the lease, pay their portion of the rent on time and keep the unit in good condition. After the year is up the landlord may want to create a new lease or may be willing to let the family rent from month to month.