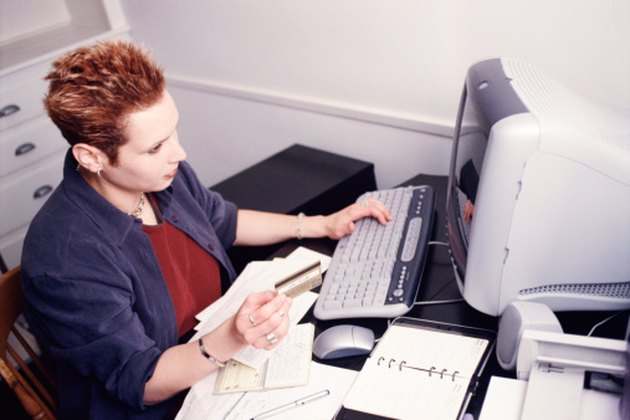 Credit bureaus use information from lenders to create your credit report. If you fail to make payments, the lender will write that debt off as a loss and it will appear on your report as a charge-off. A charge-off is a negative credit item; however, under the Fair Credit Reporting Act, negative account data such as a charge-off can only remain on a report for up to seven years. If you have a charge-off on your report that is outdated, you have the right under the FCRA to file a dispute with the bureau to have it deleted.
Step 1
Order your credit report. You can receive one free report each year from the three major bureaus: Equifax, Experian and TransUnion. You can order the free report from the Annual Credit Report website (see the Resources).
Step 2
Check your credit report for any out-dated charge-offs. Since credit bureaus update their records regularly, data may have changed since you last viewed it.
Step 3
File a dispute with the credit bureau. You can also file a dispute online, by phone or through the mail. Mailed disputes should include a dispute letter that details the items you're disputing, the reasons for the dispute and any supporting documentation. File a separate dispute with each credit bureau since data may vary from one bureau to the next.
Step 4
Wait to receive a response from the credit bureau. Credit bureaus have up to 30 days to investigate your dispute and make changes. If you file your dispute online, you will receive the results via email. Results for disputes submitted by mail or phone are sent by regular mail. Along with the results, the credit bureau will include an updated copy of your credit report that shows the deletion of the charge-off.
Tip
Credit bureaus are not required to remove charge-offs that are accurate and that still fall within the seven year statue of limitations. For more recent charge-offs, you can negotiate directly with the creditor to have the charge-off removed as a condition of payment; however, they are not required to do so.
You can find the current mailing address and toll-free number for each credit bureau on your credit report.
The law that provides consumers with a free credit report is the Fair and Accurate Credit Transactions Act, which Congress passed in 2003 as an addendum to the FCRA.
Warning
Never dispute an item on your credit report while using a public computer. It could lead to identity theft. Only use a computer that you trust is safe.
Avoid credit repair companies that promise to fix your credit. This could be a scam.
Things You'll Need
Credit report

Dispute letter