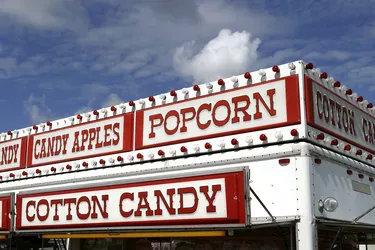 Building a concession trailer is an investment in your future. Like any investment a concession trailer comes with its own set of risks and rewards. To build a concession trailer that fits your needs you must pay close attention to the nature of your business, as well as expansion plans for the future. Special consideration needs to be taken in the planning stages to ensure your concession trailer is functional and profitable.
Cargo trailers are used as the bare bones for custom-built concession trailers. They can be purchased in a variety of sizes to meet state and federal requirements for a tow vehicle. The walls, roof and floor are in place and ready for you to begin adding the fixtures you need.
Step 1
Contact your county health inspector. The health inspector will inform you of codes relevant to the area. Important codes to consider when building a concession trailer are codes pertaining to fresh and wastewater storage, drainage systems, food storage and preparation areas. Inquire about a code checklist so you can plan the build to meet the codes.
Step 2
Contact the local building code enforcement or city ordinance office. A concession trailer will be required to follow the same rules as a traditional brick and mortar storefront. Inferior electrical wiring or plumbing may prevent you from obtaining a business license.
Step 3
Make a layout of different concession trailer designs. Use graph paper and a ruler to make a diagram. Include sinks, food preparation area, refrigeration needs and other kitchen appliances. Remember to allow space for fryers, grills, ice machines or other big-ticket items. These appliances may not come in a smaller size; you will need to plan everything around them. Consider your menu and any future expansion when you are making these decisions.
Step 4
Build storage space wherever possible. Traditional travel trailer storage is an ideal way to store items. These systems prevent items from falling into the floor during transport; more importantly, they are designed for small cramped spaces to maximize comfort. These systems can be retrofitted for a concession trailer.
Step 5
Install serving windows and doors that are functional and efficient. You will need at least two serving windows to keep up with expansion. Adding more windows will be beneficial for display purposes. These windows and the door should be energy-efficient and prevent as much air infiltration and loss as possible. Obviously, this will be more or less important depending on the type of concession services you will offer.
Step 6
Install more electrical receptacles than you think you need. Building codes will determine placement of the receptacles, but your equipment will determine how many you need. Plan for the number you need and then double that number. Adding receptacles later will not be easy; in some cases, doing so may require a second inspection.
Step 7
Locate propane tanks, fresh and wastewater tanks, and generators in a place where they are easy to maintain. Concession trailer manufacturers recommend locating the majority of the maintenance systems on the tongue of the concession trailer. Each one of these systems will require maintenance over time. Locating them in a place that you can easily access will drastically reduce frustrations.
Tip
Chose a bare trailer with a tall roof to prevent stooping or a cavelike atmosphere.
Consider emergencies during planning to locate dangerous equipment out of the escape route.
Warning
The location of your future concession stand may affect compliance with the building codes you are required to follow.
It is best to build using the most stringent codes available to avoid licensing problems later on.
Interstate laws may prevent you from selling dairy products from a concession trailer or cook raw meats.
Interstate laws may consider certain foods to be hazardous; these include eggs, poultry, cooked rice and potatoes, as well as raw meats and dairy products.
Things You'll Need
Graph paper

Ruler

Business plan

Copy of zoning restrictions, building codes, health codes