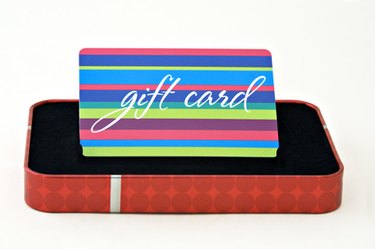 Consumer Reports states an estimated $8 billion in gift card balances goes unused each year due to lost, forgotten or unwanted cards. If you have a gift card that you can't use because a store near you closed, or you received a card from a merchant where you do not shop, consider exchanging the card.
Gift cards can be exchanged online through a number of exchange websites. These companies will purchase your unwanted card for a percentage of the card balance and offer you cash payments or alternate gift cards with a retailer such as Amazon.com. Hundreds of nationwide merchant and restaurant cards are eligible.
Step 1
Call the number on the back of your gift card to verify balance. You will need to know the card value to exchange with an online gift card market. A number of card exchange sites require your card balance to fall within a minimum and maximum range. Generally, the minimum range is $20 to $25, and maximum balances range between $500 and $9,500.
Step 2
Select an online exchange program. Some sites that exchange gift cards are Plastic Jungle and Gift Card Rescue. Alternative sites can be found by conducting an online search for gift card exchange companies.
Step 3
Navigate to the "Seller" area of the website. When using an exchange site, you will be asked to enter the name of the merchant and the card balance. The amount offered depends on the popularity of the merchant. For example, a cash exchange offer on a $100 American Express gift card may be $80, while the offer for a cash exchange on a specialized retail store card for $100 may be $55. You can sell more than one card at a time.
Step 4
Review offers from the merchant. An exchange company will make a cash offer or Amazon.com offer based on the card value. Some sites offer up to 92 percent of the card value; the amount depends on the market demand for the merchant. Exchange offers for Amazon.com gift cards are typically a few dollars higher than the cash offers. Since Amazon.com cards can be redeemed for anything Amazon sells, the extra dollar amount may be attractive if you plan on using the exchange credit to purchase merchandise.
Step 5
Select an offer and register with the online exchange site if you do not already have an account. Registration is required to track shipments, provide an address for your check to be sent to, and receive shipping instructions.
Step 6
Send your card for validation. An address and instructions will be provided and most cards can be sent in regular envelope. When the exchange center receives your card, the balance will be verified and your payment will be issued. If you selected a cash offer, a check will be mailed and you will receive it in about five business days. If you selected an Amazon.com gift card, a claim code will be emailed to you immediately following the verification of your card balance.
Tip
Merchant card balances that result from a return without receipt are accepted as gift card balances through the exchange sites.
Alternative options include selling the gift card on an auction site such as eBay, selling the card to a friend, re-gifting the card, or donating to charity.
Warning
When selecting an online company for gift card exchange, prior to sending in your card, check them out with the Better Business Bureau to ensure you are working with a reputable company.