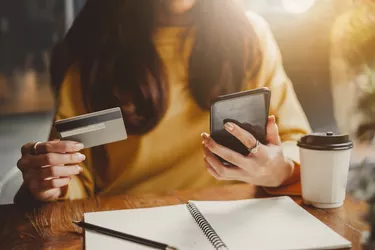 If your debit card is charged twice for the same transaction, it is a billing error. You must contact the bank issuing the card to rectify the situation and to avoid losing money.
Confirm the Error
Review your own records to confirm that you did not make two purchases with the same merchant. This is unlikely if the purchases are for the same amount. Check the dates and be sure that they are the same to ensure that the charge is not a recurring monthly charge you have authorized.
When reviewing a statement online, confirm that the duplicate charge is not for an authorization and a charge. Charges may appear this way particularly at gas pumps, and the authorization usually drops from the statement in a few days.
Contact The Bank
The Electronic Funds Transfer Act, or Regulation E states that you must notify the bank within 60 days of receiving your statement. While many banks allow you to notify them by telephone or online, a written notice is necessary to protect your rights under the law. Many banks provide a form for these disputes, but you can also write a letter, detailing the date and the amount of the charge in question.
Send your written notice to the bank by certified mail with a return receipt requested, to prove that you notified the bank in a timely manner.
The Bank's Investigation
The bank will take up to 10 days to investigate your claim about an error, or up to 20 days with a new account. If the bank cannot complete its investigation in 10 days, it has up to 45 days to investigate, but must provide you with a provisional credit for the amount you believe is in error. If you did not provide a written notice, the bank may not provide a provisional credit.
The Conclusion
According to the Electronic Funds Transfer Act, the bank must correct the error within one business day if the bank finds that the transaction was an error. The bank must notify you within three business days of its conclusion. If it concludes that no error occurred, it must notify you with a written explanation.
You have the right to request any documents that the bank used in its investigation. If no error occurred, the bank will debit the amount of the provisional credit, telling you the amount it debited and the date it occurred. The law also states that the bank must also honor any checks or transactions for five days after that without a charge for any overdraft fees that may have been charged.
Duplicate charges may show up because of electronic processor errors. Even though these errors are often resolved quickly, you should still follow the formal process for disputing the charges to protect your rights.