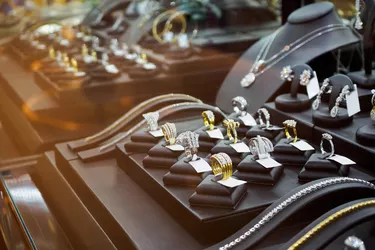 Tiffany's is known for its breathtaking, high-end jewelry and those pretty blue boxes, but not everyone can afford to pay full price for one of their statement pieces. Does Tiffany and Co. have sales? Unfortunately, no; the writers at Foxhills Jewelers claim that Tiffany's has been in business for more than 180 years and has never, ever had one. This retailer sells pre-loved Tiffany jewelry (and so do others), so this could be an option if you are amenable to buying pre-owned ones. Is there another choice, though?
Tiffany and Co. Discount Jewelry
The retailers at Tiffany and Co. do offer a discount for members of the U.S. Armed Forces; members on active duty, along with veterans and reservists who present the proper I.D., can get 10 percent off engagement rings and wedding bands. This discount is also offered to husbands, wives, fiancés and domestic partners, even if the U.S. military partner happens to be stationed overseas. This discount cannot be extended to anyone else, though, like a child or parent, and it's a good idea to contact the store first to see if there are any other guidelines for getting the discount.
If buying pre-owned jewelry doesn't seem appealing, you could apply for a job and try to get a Tiffany and Co. employee discount. Although the Tiffany's page on LinkedIn shows that they offer employees competitive pay, health and retirement benefits, tuition reimbursement and a loan forgiveness plan, it does not mention an employee discount. According to the writers at Tiffany and Co. Perks at Work, though, they do offer employee pricing, benefits and discounts.
Companies outsource Perks at Work to manage their employee benefit and discount programs. You'll need to set up an account to access the details, so it's not possible to find the specifics unless you are authorized by the employer. If you're really interested in finding out just how much of an employee discount Tiffany offers, you'll have to apply for a job and interview; they may not provide the details until there's a job offer.
Tiffany and Co. Employee Discounts
The specialists on the Tiffany career website and their postings on job boards don't include information about salaries and benefits, but this is common for large and small companies who post opportunities. They don't mention a Tiffany and Co. staff discount here either. Still, they mention their personal and professional growth programs, a rewards and recognition program and other benefits of working for the company. They also sponsor an employee giving and volunteering program.
The writers at Simply Hired have a good number of reviews from employees who have worked at Tiffany's, but the conclusions are mixed. The positive comments focus on things like good work environments, beautiful stores and products, the discount and the benefits packages. Unfortunately, the conversations about the discount do not provide any additional specifics on the total amount of the discount. Also, on the downside, employees complained about having to meet monthly sales goals, holiday rushes and long hours.
If you aren't ready to become a Tiffany and Co. employee, it's good to know that you can find plenty of jewelry at their stores and on their website that cost less than you would think. You can get a small pair of sterling silver infinity earrings for ​$175​ and mini Tiffany blue heart-shaped earring studs for ​$400​. Their least expensive ring has a stunning pink sapphire priced at ​$325​; a yellow-gold "love" ring will cost you ​$650.​
The company is best known for its engagement rings, which they offer in eight different shapes. But if this is out of your price range, you can settle on a less expensive piece. Tiffany's also sells men's jewelry and fragrances; the writers of the Tiffany's website also provide a specific page for gifts that are priced at under ​$750​. They also sell purses, wallets, sunglasses, luggage tags, tableware, games, home décor and baby gifts.