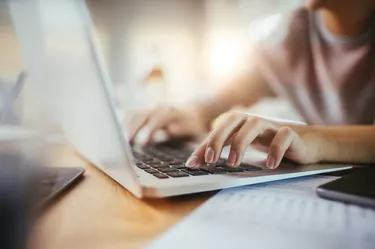 As the top employer in the nation, Walmart strives to make things as easy as possible for its 1.5 million U.S. employees. If you're in the store, you can easily check your pay stub and other important details using the OneWalmart homepage. Outside of your store, however, you'll need to log into the OneWalmart homepage before you can access the information.
Tip
To check your Walmart pay stub online, you'll log into one.walmart.com and input your name and password.
Check Your Walmart Pay Stub Online
If you've checked your pay stub at work, you may be a bit puzzled that it isn't quite as easy at home. This is a protective measure, but once you've logged in at home, you'll find it's easy to check in from that point forward. At work, you'll just choose the Paystub link from the site.
To check your Walmart check stub at home or from your mobile web browser, go to one.walmart.com and click on the Walmart spark in the upper-left corner. Here, you'll be prompted to input your username and password, at which point you'll be in the system. From there, you can click on the Paystub link and view the information.
In addition to looking at your Walmart check stub, you can also use one.walmart.com to view your work schedule. There's also an app, available on Google Play and in the iTunes Store, where you can view your current schedule, approved time off and shifts that are available for you to accept.
Use the Walmart Money Network
Another way to check your pay stub is to go through the Money Network, which is a general payroll network that many businesses use. Walmart is one of those businesses. The Walmart Money Network lets you view your pay stub and even use a mobile app to make purchases with the money.
To view your pay stub using the Walmart Money Network, you'll go to exceedcard.com and select Login to Paystub Portal in the upper-right corner. If you've never used the site, you'll have to register, which requires your birth date and the nine digit Walmart ID you were issued. You'll also need your facility number.
Other Pay Stub Options
One benefit of accessing your paycheck through the Walmart Money Network is that you can sign up to receive the information on your pay either via text message or email. It won't cost anything for this service, and it keeps you from having to remember to log in and check it online.
To get text message or email alerts for your Walmart pay stub, go to moneynetwork.com/Walmart and select Log In to Paystub Portal. Once you've logged in, select Email and Text Messages and choose which one you prefer to receive.
When you're at work, you can usually check and print your pay stub in the employee room. If you'd prefer to get your information by phone, call the pay card line at 1-800-903-4698 and follow the prompts. You'll use the same PIN you would use on the Walmart Money Network.
Reading Your Walmart Pay Stub
Once you've accessed your Walmart check stub, you'll need to know how to read it. As with most checks, you'll see a deposit date, which will show you the day you can expect to see it posted to your account. One unique thing with Walmart's paychecks, though, is something called an Advice Number, which is simply a reference number for you to use if you have questions about the statement.
But the information you're probably looking for is under earnings. This shows how many hours you worked, your pay rate and how much you earned. You'll also see year-to-date earnings and information on the taxes that have been withheld and submitted to the Internal Revenue Service.