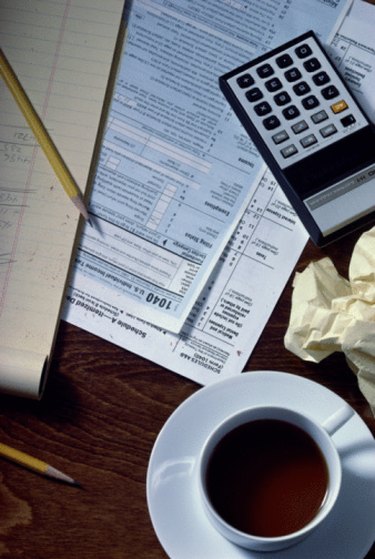 In the United States, the Internal Revenue Service requires that individual taxpayers who have not had sufficient income tax withhold by employers or other third parties must make additional tax payments to avoid penalties and interest charges. The IRS requires taxpayers to make these additional tax payments using a voucher found with Form 1040-ES, Estimated Tax. To minimize penalties and interest, payment should be submitted with Form 1040-ES as soon as a taxpayer realizes he has not prepaid sufficient income tax.
Additional Tax Payments with Form 1040-ES
Step 1
Obtain Form 1040-ES by downloading the form from the IRS website or through the mail by calling the IRS at 1-800-TAX-FORM.
Step 2
Input the identifying information requested in Payment Voucher 1 of Form 1040-ES. This identifying information includes your name, address and Social Security number as well as the name and Social Security number of your spouse. As the IRS uses this information to properly credit your payment, it is important the information you enter matches the IRS records.
Step 3
Enter the amount of your additional tax payment in the "Amount" box of Voucher 1 of Form 1040-ES.
Step 4
Make a check or money order payable, in the amount of your additional tax payment, to the "United States Treasury". Write your Social Security number in the memorandum portion of the check.
Step 5
Mail the check and Voucher 1 of Form 1040-ES to the appropriate IRS service center as listed in the instructions to Form 1040-ES. IRS service centers are listed geographically. Mailing your payment and voucher to the wrong IRS service center may delay the IRS from recording your payment in a timely manner.
Step 6
Obtain proof of mailing your payment and voucher, typically in the form of a certified mail receipt. This receipt may be used to prove a timely remission of payment. This step is optional.
Tip
Form 1040-ES contains four payment vouchers. Additional payments may be made using vouchers 2 through 4. If you need additional vouchers, you may duplicate voucher 1. The IRS allows you to duplicate payment vouchers.
The payment deadlines on Form 1040-ES vouchers are intended for taxpayers making regular, quarterly estimated income tax payments. When making additional tax payments, you do not need to be directly concerned with the payment deadline listed on the voucher.