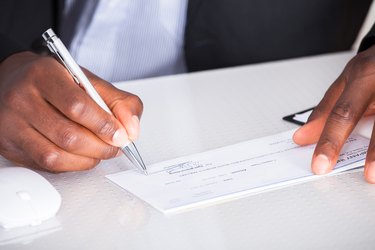 Banks and financial institutions around the world use bank branch codes to identify their specific locations. This helps them differentiate between branches that are within the same region to better keep track of their accountholders' assets. The most common types are IBAN (International Bank Account Number) and SWIFT (Society for Worldwide Interbank Financial Telecommunication). IBAN numbers are not used in the United States, but these codes can be seen in European countries and elsewhere.
What Do Bank Branch Codes Look Like?
Some of the best international banks in the world use alphanumeric IBAN numbers, which can contain up to ​34 different characters​. They start off with country codes, such as GB for Great Britain. This can be followed by transaction number digits, followed by four-letter bank codes, a numeric bank sort code with several digits and then a number that is specific to the user's bank account. For example, Great Britain's National Westminster Bank uses GB 29 NWBK 601613 31926819.
While IBAN codes identify specific bank accounts, SWIFT codes only identify the banks. These codes are also alphanumeric but are usually shorter – ​up to 11 characters​. They can start off with a four-letter bank code, followed by a two-letter country code.
After this, you will see a two-letter code for the location and then a three-digit branch code. A SWIFT code for New York City's Chase Bank might look like this: CHASUS33JCC; there would also be a routing number and a separate account number.
If the bank in question uses IBAN, this number can be found by going on the bank's website or checking the bank statement. The same process holds true for banks that use SWIFT.
Canadian banks use SWIFT, and for CIBC branch number lookup, log onto their website. National Bank branch numbers and the branch number of Scotiabank can also be found in much the same way.
Bank Branch Codes to Send Money
Bank branch codes may not be needed for people who are sending money within their own countries, but IBAN or SWIFT codes are required for international transfers. CIBC bank can send money to 120 different countries, and this can be done in person, online or through their mobile banking app. They have a chart that shows each country's requirements for the transfers.
To send money to Bolivia, you need the bank name, account number and swift code; for Hungary, you need the bank name and IBAN. Keep in mind that some countries have IBAN and SWIFT. The payee should be able to provide the IBAN or SWIFT number. If there are questions, you can check IBAN numbers on IBAN.com or check both at The Swift Codes.com.
Sending Money Internationally
The writers at U.S. News & World Report share some helpful tips about sending money to different countries. First of all, there will be some fees involved, which are generally a percentage of the amount being sent. Senders should also consider the current currency exchange rate before making transfers. Also, keep in mind who the money is going to – if it's going directly into someone's bank account, it may be easier.
Due to international banking regulations, there are limits on the amounts of money that can be sent to certain countries, whether it be per transaction or over a set amount of time. Timing is also important; check to see when the sent funds will be available to the recipient. In emergency situations, they may need access immediately, so this could be an issue.