Every check is stamped with your bank routing number and your account number. The bank routing number identifies the bank and branch where an account is located. You might need a routing number to arrange a direct deposit to your bank account or receive a wire transfer. Attempting to locate a bank with just an account number is difficult, because no centralized system exists for checking or savings account numbers. However, if you have a routing number and want to find the bank to which it refers, you can use the Federal Reserve's online database.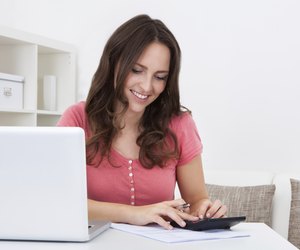 credit: AndreyPopov/iStock/Getty Images
Where To Find Your Routing Number
The routing number is the first nine digits at the bottom of your checks. The first four digits refer to your bank's geographic location and the second four digits identify your specific institution and branch. The last number is to assist with electronic check routing. The second group of digits is your personal account number. These numbers are identical for each check and are typically nine to 12 digits long. The last number on a check is the check number and will change for every check.
Search Federal Reserve Database
To find the name and location of a bank from the routing number, use the Federal Reserve's "Fedwire" directory (see Resources). Input your routing number into the appropriate box and hit "earch." There are also some non-government websites that use this information from the Federal Reserve to create a list of all banks and routing numbers.
n/a
n/a
n/a
n/a