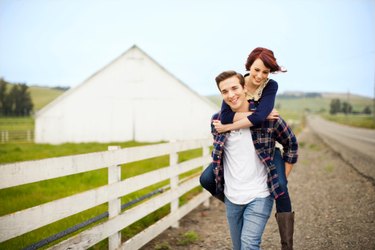 The United States Department of Agriculture (USDA) has a Rural Development arm offering direct and guaranteed home loans. In each scenario, the USDA offers to assist homeowners with the expense of financing the purchase of a home by reducing the costs of mortgages and home equity debts. If you have a USDA loan and would like to take another loan to improve your property, you may be restricted based on the terms of your initial mortgage.
Purpose
The purpose of a USDA mortgage is to assist with rural development. The loans are not issued in metropolitan areas. To qualify for your initial USDA loan, you must prove you live in a qualified area, submit a property to USDA inspection before you purchase it and agree to several terms unique to USDA loans. These terms are in place to reduce the chances you will default on the loan since it was either extended with or insured with federal funding. One possible restriction would limit the amount of future debt you can take on while you have the USDA loan.
Explanation
A primary criteria for any USDA mortgage, whether it is guaranteed or direct, is having the ability to pay the mortgage, insurance and taxes on the property. When you apply, you provide information on your income and expenses so the USDA can determine whether or not you can afford the loan. If you were to take a new loan, such as a home equity loan, you may have added costs the USDA did not properly weigh into its decision to make your loan. As a result, the USDA may restrict you from taking a home equity loan while you are still repaying your USDA mortgage.
Options
If you would like some extra cash to make improvements to your home, consider refinancing your existing USDA loan rather than taking a new home equity loan. This option is available if you have already paid off a portion of your debt and would like to pull some money back out of your home for improvements. You can refinance to a USDA direct loan or USDA guaranteed loan with cash back, allowing you to repair your property. The process to refinance a USDA loan is not easy; you will go through another round of applications and inspections on your property. However, if you need to make improvements to make your home more livable, there is a good chance you will receive the funding to do so.
Considerations
The guaranteed home loan program is the sole loan issued to individuals who are not highly needy; the income cap is 115 percent of the local average. Every other loan is issued partly based on the individual or group's need for assistance. If you received a loan because the USDA determined you were in a specific category of very low income or extreme need, taking a home equity loan may not be advisable. Instead, focus on repaying your mortgage to protect your asset. Only aim to make improvements if your current home is not livable due to issues with heating, cooling, septic systems or safety concerns.
Expert Insight
If you would like to exit your USDA loan and arrange a mortgage with less restriction, you may be able to refinance to a private mortgage loan. However, in doing so, you will lose any low or fixed interest rate benefits granted to you through the USDA. Instead, you will have to qualify solely on your own credit and financial ability for a new mortgage.