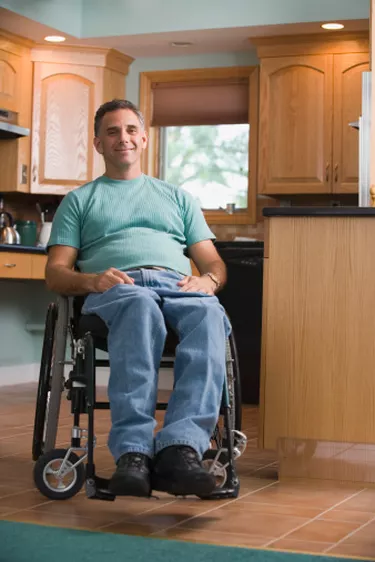 Social Security Disability Insurance, or SSDI, pays a monthly benefit to those who qualify. The benefit amount is based on your age and the amount you've paid into Social Security while working. According to the National Alliance on Mental Illness, the average SSDI benefit was $900 per month in 2009. Given that the national median rent, per the Census Bureau, was $842 that year, SSDI isn't enough to cover rent and other expenses like food and prescriptions. The U.S. Department of Housing and Urban Development, or HUD, helps to ease the burden of high housing costs by providing funds for housing assistance through Housing Choice Vouchers, formerly known as Section 8.
SSDI
To receive a monthly benefit through SSDI, you have to meet Social Security's definition of "disability." Social Security defines a disability as having a condition that prevents you from being able to work or train for new work. Your condition also must be expected to last at least one year or be terminal. You can apply for SSDI at your local Social Security office. It typically takes three to five months for your application to be approved or denied.
Housing Choice Vouchers
Housing Choice Vouchers are federal funds that are distributed locally to low-income households, including the disabled. The vouchers are distributed through local Public Housing Authority, or PHA, offices. If you meet the income guidelines and any other local requirements, you can use your voucher for any rental property you'd like, as long as the PHA says it's safe and healthy. The voucher is paid directly to your landlord, and you're responsible for any difference in rent.
SSI
If you're applying for SSDI, you should also consider applying for Supplemental Security Income, or SSI. While SSDI is disability-based, SSI is income-based. If you're of low-income and disabled, you may qualify. According to the National Alliance on Mental Illness, the average SSI benefit was $623 per month in 2009. Receiving SSI many reduce your SSDI benefit, but will increase your overall monthly benefits. To apply for SSI, contact your local Social Security office.
Home Ownership
Another option for those who qualify for Housing Choice Vouchers is the Homeownership Voucher program. If the program is offered in your area, your local PHA can help you apply. To qualify, this must be your first home, and you have to meet minimum income and credit requirements. If you're approved, your PHA will help you secure a mortgage and your voucher will be applied toward your mortgage payments.