You've probably received credit card invitations in the mail unless you've somehow managed to stay off the many mailing lists. These invitations promise you the moon and the stars, usually for about 12 months with no interest and a $10,000 limit. If you decide that you want one of these cards, you'll likely have to submit a promo code to sync up any offer you got in the mail. Often this code is used to ensure that you're the one taking advantage of the offer rather than someone who intercepted the mailer.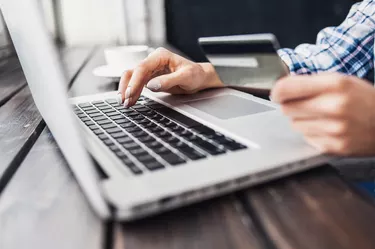 Signing Up for a New Card
The promo code on the mailer might be called an invitation number, an RSVP code or an authorization code instead. The paperwork will also likely provide instructions on how you can take advantage of the offer, typically by returning the form by mail or going online and signing up. The latter option may be quicker. Not only will this promo code verify that you are the person to whom the offer was intended, but it will also ensure that all the promised benefits and bonuses are applied to your new account.
What It Means
If you've been offered a promo code with an invite to apply, you've likely been chosen because of your good credit rating. This is a good thing since it saves you the step of applying and hoping for a good response. However, don't just jump at the offer due to convenience. Take some time and shop around to see if you can get a better offer. Look at the annual percentage rate, months without payments and any rewards you'll receive for the charges you make using the card. Make sure you only apply once you've chosen the best card for your purposes since multiple applications can hurt your credit score.
Expiration Dates
If you're entertaining one of these mailed offers, pay close attention to any expiration dates listed on it. The special deal is likely provided only for a limited amount of time, but even once it's expired, you may be able to look for special deals available from that credit card company. You can also conduct a web search for best credit card offers for the current date and month, and find sites that have pulled them all together.
Other Codes
If you're still confused, it might be that the "promo code" you've been asked to provide is something else entirely. If you're making a purchase, for instance, it may not make sense that you're being asked for a promo code. Instead, it could be a code unique to that site such as a coupon code. If you're using a department store card, there may be a special code associated with a mailing you've gotten as a VIP. Most importantly, though, the site might be asking for the three-digit card verification number found on the stripe where you sign. These digits are not a promo code, but the site may have misidentified them as such.