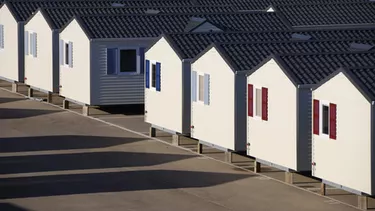 When insuring a mobile home, there are two types of policies: replacement cost or actual cash value. The policy providing replacement cost covers the cost to replace a mobile home with one of comparable value to the one insured. An actual cash value policy depreciates the value of your mobile home, providing you with the balance after depreciation because of age or damage. According to Bankrate, if you own a mobile home, you should consider a replacement policy.
Step 1
Find the title, deed or bill of sale for your mobile home and review the make, year, model and square footage. This information is important in determining the replacement value.
Step 2
Buy a Manufactured House Appraisal Guide. This guide provides a book value of a mobile home, along with its cash and replacement values. It is published by the National Automobile Dealers Association (NADA) and updated annually.
Step 3
Use Chattel Mortgage's NADA XII Advanced Version Worksheet to find the value. An accurate estimate on replacement cost is determined after completing the worksheet.
Step 4
Look up the year and make of your mobile home in the NADA guide. Include features that increase the value of your home, such as a fireplace or metal roof.
Step 5
Contact a manufactured home dealer in your area. Have him or her locate a mobile home similar to yours in as many areas as possible. Request a quote to replace your mobile home.
Step 6
Pay for a professional appraisal to determine a replacement value.
Tip
Remember that the replacement value may change from year to year. Have your insurance agent review your policy to make sure you have the appropriate coverage.