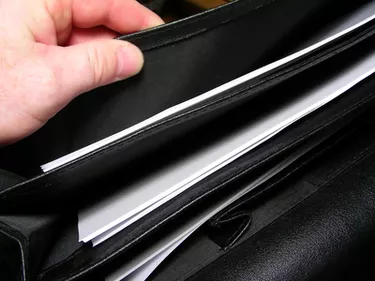 Transferring property between family members is not uncommon. In some cases, older parents wish to deed homes and property to children to avoid legal wrangling after their death. In other cases, parents simply want their children to have the right of ownership over a piece of family property. Before transferring, though, you should speak with an estate attorney about the possible tax implications involved in property transfer. In Washington state, if you want to transfer the deed to your property to your child, you need to complete a quit-claim deed.
Step 1
Collect all ownership documents relating to your property first. You must determine who, if anyone, is a vested owner of the property. All vested owners are required to sign quitclaim deeds that transfer ownership.
Step 2
Find a local notary public and hire her for one hour to witness the quitclaim deed signing. The meeting with the notary should include you, your child, any other vested owners of the property.
Step 3
Obtain a blank quit-claim deed specially written for Washington state. The notary may have the form available, or you can get one online.
Step 4
Complete the quit-claim deed in the presence of the notary. The "grantors" are the owners transferring interest. The "grantee" is the person receiving the interest in the property. Specify the county in Washington state where the property is located.
Step 5
Find the parcel number and the legal description for the property from your deed or from the county assessor's office. Write the parcel number and legal description on the quitclaim deed.
Step 6
Sign and date the quitclaim deed. All vested owners must sign, and must provide two forms of identification for the notary to check. Have the notary sign, date and place his raised seal on the document. Make copies for all parties involved.
Step 7
Obtain a blank copy of the Washington State Excise Tax Affidavit. Complete this form even if no money is exchanging hands. Write the required information on the form: your name, the property address, your child's name and address, the legal description of the property and the property's assessed value, obtained from the county assessor's office. Sign the form and have your child sign the form.
Step 8
Present the completed, original quitclaim deed and the excise tax affidavit to the auditor's office in the county where the property is located. Pay the recording fee.
Things You'll Need
Blank quit-claim deed for Washington state

Property legal description

Property parcel number

Blank Washington state excise tax form

Notary public