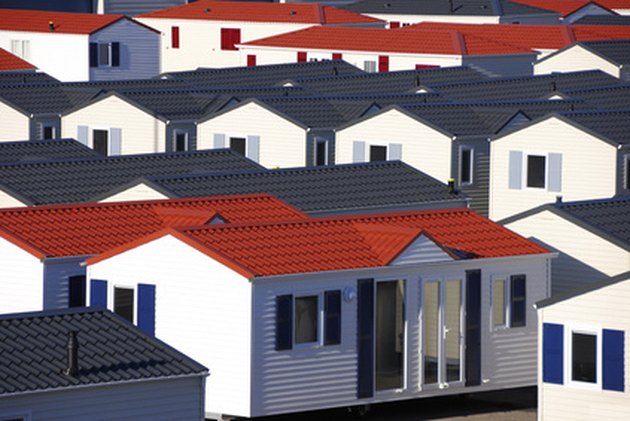 Common reasons for locating the value of a mobile home include refinancing or selling your mobile home. There are several ways to find out what your mobile, or manufactured, home is worth. A mobile home is valued based on several factors. The year the home was produced as well as the make and model are determining factors when locating the value of your mobile home. Additionally, upgrades and additional components or accessories, like a metal roof or large porch, are computed in the value.
Step 1
Locate the make, model, size and year of your mobile home. This is generally listed on the title, bill of sale or deed for the mobile home.
Step 2
Purchase a Manufactured House Appraisal Guide. The National Automobile Dealers Association (NADA) provides this guide to offer a book value of mobile or manufacture homes, similar to a car.
Step 3
Complete the NADA XII Advanced Version Worksheet (See References.) This is the information you need to get an accurate estimated value of your mobile home using the NADA book.
Step 4
Review the book value of your mobile home in the Manufactured Housing Appraisal Guide provided by the NADA by locating the year, make and model. Add the additional features, such as a fireplace, using your worksheet and determine the value of your mobile home.
Step 5
Contact a real estate agent in you area. Request a comparable market analysis (CMA) for your mobile home. This approach is more precise and compares your mobile homes to the other mobiles homes sold in your area.
Step 6
Get an appraisal on your mobile home. An appraiser provides a community value of your mobile home, much like a CMA. The value provided by an appraisal takes into consideration supply and demand in your area as well.