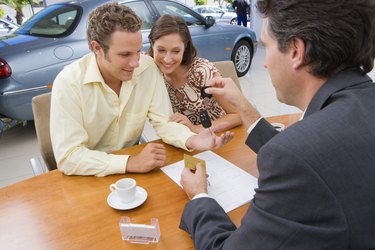 Alabama title loans are short-term, high-interest loans secured by the title of a vehicle. If the owner does not pay a title lending business monthly interest on the title, the business may legally seize the vehicle. In Alabama, title lenders are considered to be pawnbrokers, and they do not fall under the restrictions of the Small Loan Act.
History
Alabama title loans are an issue of strong legal debate, as title lenders are accused by some activists of preying on the poor with high-interest-rate loans. In 1993, the Alabama Supreme Court decided to classify title lenders as pawnbrokers, which allowed them to be covered under the Pawn Shop Act. In September 2006, Alabama Circuit Court Judge Charles Robinson Sr. came to the ruling that parts of the Pawn Shop Act were unconstitutional. Judge Robinson ruled that Alabama title companies can charge up to 300 percent in interest, compared to other states that restrict title loan interest rates to 24 percent annually. As of August 2010, the Alabama Supreme Court has not reviewed this ruling, so predatory interest rates on Alabama title loans remain in effect until the higher court makes a decision.
Pawn Shop Act
Alabama title loans are covered under the Pawn Shop Act. If a title lender receives no payment on a title loan after 30 days from the signing of the original contract, then the vehicle legally becomes the property of the title lender. The title lender may charge a maximum of 25 percent of the amount of the loan per month in interest. Since most Alabama title loans are under $1,000, many poor borrowers cannot pay off the loan and lose their vehicles.
Small Loan Act
While Alabama title loans are not currently covered under the Small Loan Act as of August 2010, some individuals are lobbying to have title loans reclassified into this category. According to this act, Alabama recognizes that most wage earners of low incomes are taken advantage of by payday loan lenders. The Small Loan Act covers loans of $1,000 or less and limits interest payments. Under the Small Loan Act, lenders cannot charge more than 3 percent a month for the first $200 and more than 2 percent interest on the loan between $200 and $1,000.
Restrictions
The State of Alabama puts very few restrictions on title lending businesses. According to the Pawn Shop Act, all title lenders must pay an annual fee to the state for licensing. Alabama title lenders must provide full disclosure of the terms of the title loan and may not use any false advertising. Title lenders are required to keep detailed records of all transactions. Any broker who violates rules listed in the Alabama Pawn Shop Act will receive a fine of up to $1,000 per title loan entry.