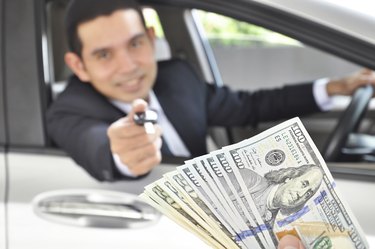 Title loans cover the needs of people who require a cash infusion for emergency reasons and may not have the means to qualify for other loans. As long as the borrower has a clean car title with no other liens, Tennessee allows its residents to take out 30-day loans secured by that title. The lender keeps the title until the loan is paid in full.
Loan Amount and Term Limits
Under no circumstances can a lender in Tennessee make a title loan of more than $2,500. Although the initial term of a title loan is 30 days, Tennessee allows lenders to automatically renew these loans for additional 30-day periods when payment is made. From the third renewal forward, the borrower must pay at least 5 percent of the original amount borrowed along with any interest and fees to continue renewing the loan. If the borrower pays off the loan in full before the date due, Tennessee law forbids the lender from charging any prepayment penalties or fees.
Interest and Fees
Tennessee prohibits title loan companies from charging an effective interest rate greater than 2 percent per month. Lenders may charge additional fees for the loan to cover their own costs of operation. However, these fees cannot amount to more than one-fifth of the principal amount of the loan. For example, a lender could not charge more than $40 in fees for a $200 title loan. Tennessee also prohibits lenders from selling or charging a fee for any insurance in connection with the loan.
Record-Keeping Requirements
All title-loan lenders in Tennessee must be licensed with the state. The state reviews lenders' records for compliance and requires licenses be renewed annually. For every title loan made, the lender must keep an official record that lists the license tag number, VIN number, make, model and year of the car. This record also contains the name, address, date of birth and physical description of the borrower. Finally, the record includes loan details such as the principal amount of the loan, fees and interest, the date the loan was made and the date it matures.
Title Loan Default
In Tennessee, unlike some other states, the lender holds the title until the loan is paid in full. However, if the borrower fails to pay back the loan, the lender has the right to repossess the car. Once repossessed, Tennessee requires the lender to hold the car for 20 days to give the borrower a chance to pay the money owed. After that 20 days, the lender has 60 days to sell or otherwise dispose of the car. Tennessee allows lenders to seek reimbursement of repossession expenses. The lender is not allowed to buy the repossessed car himself for personal or business use.