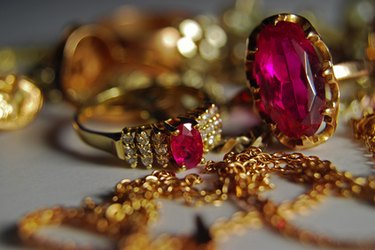 Homeowner's insurance provides limited coverage for valuable items such as jewelry and fine art. Scheduling valuable items guarantees coverage for their full worth. To schedule property, an insured must provide an appraisal for the items and add them to the policy individually for an additional premium. Non-scheduled property consists of everything automatically covered without an appraisal.
Types of Personal Property and Coverage
Comprehensive homeowner's insurance includes coverage for personal property. Personal property consists of items the insured owns and keeps in the home, but that are not physically attached to it.
Examples of Scheduled Personal Property
Homeowners should consider scheduling the following classes of property to insure them fully: jewelry, furs, cameras, musical instruments, silverware, fine arts, manuscripts and books, golfing and sporting equipment, coin collections and hand or power tools used for business purposes.
Examples of Non-Scheduled Personal Property
Examples of the kinds of personal property that receive automatic coverage under the terms of a homeowner's policy include furniture, clothing, appliances, household items, lawn equipment and small electronics, such as televisions and stereo equipment. Non-scheduled property may be insured for actual cash value or replacement cost.
How to Schedule Personal Property
The process for scheduling valuable personal property differs from one insurance company to another. The insurance company keeps copies of appraisals or recent receipts for the items on file. The dollar amount of the value of the items added determines the price of scheduled property insurance.
Actual Cash Value versus Replacement Cost
Coverage for non-scheduled personal property on a homeowner's policy pays the policyholder the actual cash value (ACV) or replacement cost value. ACV coverage pays what the item is currently worth after depreciation. Replacement cost coverage pays the cost of actually replacing the item. Homeowner's insurance reimburses the loss of scheduled items according to the appraised value on file.