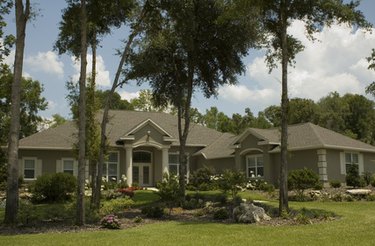 Hazard insurance covers physical damage to the structure of a home caused by common perils, such as fire, wind or hail. Homeowners' insurance is usually sold as a comprehensive package that includes hazard insurance, personal liability insurance, personal property coverage, loss of use coverage and medical payments coverage.
Hazard Insurance Covers the Physical Structure
Hazard insurance covers damage to the physical structure of a home but not to its contents. Most comprehensive homeowners' insurance policies include basic hazard insurance against wind, fire, vandalism and a variety of weather-related perils.
Hazard Insurance Is Determined by Replacement Cost
The amount of hazard insurance required on a home depends on what it would cost to replace the home in the event of a total loss. This dollar amount may be very different than what the home is worth on the current real estate market. Policies are typically written for one year and are renewable.
Homeowners' Insurance is Comprehensive
Hazard insurance is usually written as one part of a comprehensive homeowners' insurance policy that includes protection for other kinds of losses, such as damage or theft of personal property inside the home, liability coverage, coverage for minor injuries sustained by others on the property, and coverage for loss of use of the home after a weather catastrophe or fire.
Hazard Insurance for Rental Properties
Insurance policies written for rental properties are called dwelling policies and typically include hazard insurance only, with no additional coverage for contents or loss of use. Some dwelling policies include some liability coverage. Liability coverage may also be purchased separately.
Hazard and Homeowners' Insurance Exclusions
Many hazard or homeowners' insurance policies exclude coverage for flood, earthquakes and water damage. Flood and earthquake insurance can usually be purchased separately. Water damage coverage may be added for additional premium amounts. In hurricane-prone areas, some windstorm exclusions and limits may apply to hazard insurance coverage.