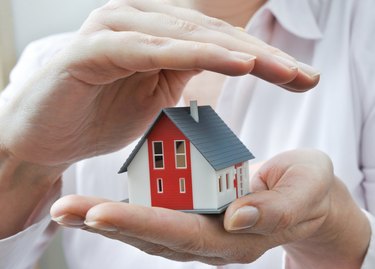 If you own the wrong type of insurance policy, a routine claim can turn into a financial nightmare. Even standard homeowner's insurance policies have several policy forms that offer varying degrees of protection, so it is your responsibility to ensure that your home is properly covered. Texas uses a slight modification of the standard forms, called HOA, HOA+, HOB and HOC coverage.
HOA
The most basic type of homeowner's insurance is called a basic form policy, or HO-1. In Texas and other areas that use alternative policy types, this coverage is called HOA. HOA policies cover your home only for the 10 specific types of loss listed in the policy, including fire, explosion, vandalism and theft. According to the Texas Department of Insurance website, HOA policies offer cash value coverage only, meaning settlements for damaged property are depreciated according to the item's age and condition at the time of loss.
HOA+
The HOA+ policy is an alternative form of the broad form policy, or HO-2. Like the HOA, HOA+ offers protection only from the specific losses listed in the policy, though the list is expanded, typically to 16 losses rather than 10. Examples of losses covered by HOA+ but not HOA include falling objects, sudden and accidental water discharge and freezing. HOA+ policies can include replacement cost, meaning settlements are not reduced by depreciation.
HOB
One of the most popular types of homeowner's insurance available as of June 2011 is the special form, or HO-3 policy, otherwise known as HOB. These policies offer coverage against all forms of direct physical damage to the home except those excluded by the policy. However, these policies only protect your belongings from the same list of perils covered by HOA+. Typical HO-3 policies exclude water damage (except damage from sudden and accidental discharge) unless you endorse other forms of water coverage for higher premiums. Though nearly identical to the HO-3, HOB policies tend to offer broader water protection as standard coverage.
HOC
HOC policies are the rough equivalent of comprehensive, or HO-5, policies. These are full open-peril policies, meaning they protect the dwelling and its contents from all forms of direct loss except those excluded by the policy. These are the most extensive homeowner's insurance policies available as of June 2011, but also the most expensive. Depending on your area, HOC policies offer varying levels of water coverage, similar to HOB policies.