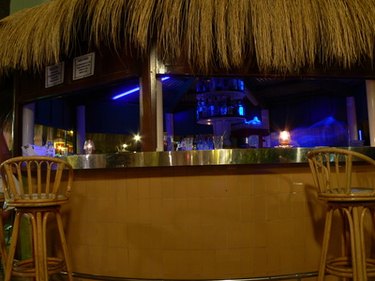 Whether you want to add some zing to your basement rec room or make your patio even more guest-friendly, a home bar is a great addition to your entertainment arsenal. You could have a wet bar professionally installed that includes beer taps, a Burl Wood counter and brass foot rail—at a cost to you of thousands of dollars. The much simpler, much cheaper solution is to make a "dry" bar yourself, and the advantage of this method is that your home bar will be as unique as your home itself.
Inside
All you need for a basic bar setup is a high countertop and some bar stools, so reclaim an old kitchen island from a salvage yard or thrift store. They come in a wide variety of styles, so you're bound to find one that you like; they're also made to use with bar stools so they're already the correct height. Another idea is to set up a sturdy 4-foot tall bookcase as a bar. Choose one that is at least 18 inches deep and turn it with its back to the room; the shelves can hold liquor and supplies. Cover the back with mirror tiles, wallpaper or self-adhesive plastic sheets to fit in with your room décor. Hang a large mirror on the wall behind the bar—or cover the wall with mirror tiles— and add a fluorescent beer sign and some well-padded bar stools and you're in business.
Outside
For a cheap outside bar, all you have to do is stack cinder blocks in columns until they've reached the height you want and then stretch a board across the top. Be sure the columns are high enough so that, when someone is sitting at the bar, their knees will fit under the countertop. For a tropical flair, drill a hole in the center of the bar's top big enough to hold the pole of a patio umbrella—station an umbrella stand on the ground to support the whole thing—and top the stools with Hawaiian-print fabric cushions. A word of caution: Don't use pressure-treated lumber for the bar counter because the weatherproofing process involves arsenic and renders the wood unsuitable for use around food or drink.
Portable Bar
If you want a portable bar that you can roll from room to room or from the kitchen to the patio and back, simply add wheels or casters to an outgrown baby-changing table. These handy tables already have shelves for supplies and a rim around the top to prevent your bottles and glassware from falling off in transit, and you can outfit one to fit your needs by adding any combination of dish racks, hooks, ice buckets and bottle holders that you like. You can even hang stemware holders from the bottom of the deepest shelf so that your wine glasses hang upside-down.