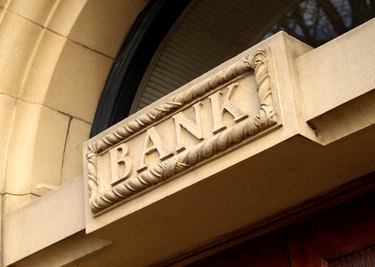 To obtain a debit card, you must first open a bank account. Almost all checking accounts can be attached to a debit card, allowing you to pay for goods and services without cash. When a debit card is used, you must enter a predefined personal identification number, or PIN, to complete the transaction. This number prevents unauthorized purchases, should your debit card be lost or stolen. Be sure to research several banks prior to making a decision. Banks will differ on monthly and annual fees, number of branches and minimum balances required.
Step 1
Once you've chosen which bank to open an account with, visit a branch.
Step 2
Tell a representative that you would like to open a checking account. The first thing they will discuss is the type of checking account you would like to establish. Often, banks will have many different types of checking accounts, depending on your spending habits, financial goals and more. Ask the representative to assist you in deciding which account is right for you.
Step 3
Provide the representative with all of the information required by the bank. At minimum, they will require your full legal name, telephone number, social security number, address and date of birth. Inform the bank representative that you would like to attach a debit card to the account.
Step 4
Sign the disclosures the bank requires after reading and understanding them thoroughly. Each bank differs in their agreements, and the representative can answer any questions you may have.
Step 5
Provide the representative with the opening deposit. Once the account is established, the representative will provide you with your account number as well as temporary checks. Your actual checks will be mailed to you, along with your debit card, typically in less than five business days.
Step 6
Call the number on the debit card to activate the card once you receive it. Follow the directions to select your PIN and begin using the card.
Tip
You can also set up an account by calling the bank and providing the information over the phone. Prior to using the account, the bank with mail or email you the disclosures and agreements, which must be signed and returned to the bank. Before visiting the bank, be sure to inquire as to the amount of the minimum opening deposit for a checking account.
Things You'll Need
Government-issued identification

Second form of identification

Money for deposit