Cashier's checks are the preferred way to make large payments such as the down payment on a new home. The bank guarantees the payment so there's no risk the check will bounce. You can get a cashier's check in person from almost any bank or credit union. A lot of banks will only issue cashier's checks to their customers, however, so you might have to shop around to find a bank that will help you.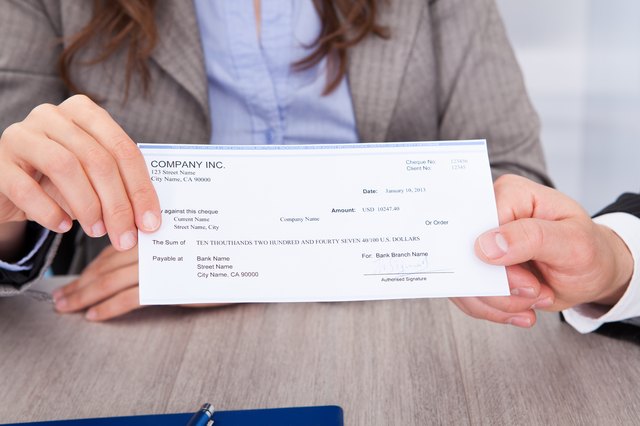 credit: AndreyPopov/iStock/GettyImages
Hit the Phones
You can only get a cashier's check from a bank or credit union. The problem is, many banks are unwilling to provide cashier's checks to people who aren't customers, even if you have the cash and are willing to pay a fee. For example, currently, neither Bank of America nor Wells Fargo will give cashier's checks to the general public. You might have better luck with smaller community banks and credit unions so hit the phones and ask if someone can help you.
Swap the Cash for a Check
Assuming you find a bank that will write you a cashier's check, you'll need to take the full amount in cash to the nearest branch. Bring extra cash to cover the bank's charges. The typical transaction fee is around $10 but you may be charged more as a non-customer. To get your cashier's check, pay the check amount and the transaction fee, show some photo ID and provide any information the teller needs. Generally, she'll need to know to whom she should make the check payable, the check amount and any memo you'd like to include on the check such as a reference number. You cannot get a blank cashier's check so you must know the recipient's name.
Open an Account
You might find that all the banks in your town refuse to issue a cashier's check since you're a not an account holder. In this scenario, you might have to open an account. This can be a little challenging due to the tough laws to prevent money laundering but generally, you'll need two pieces of photo ID such as your passport and driver's license, your Social Security number and proof of a physical address — a recent utility bill or lease agreement. Then, you'll need to make a deposit to activate your account. Find information about account-opening policies and fees in the information pages that most banks publish on their websites.
Try Using a Money Order
If you have no luck with the banks and you don't want to open an account, ask the recipient if she will accept a money order. Like cashier's checks, money orders are considered a safe form of payment since you buy them with cash. This means that there's no risk the money order will bounce. Banks don't issue money orders; instead, you have to buy them from a post office or a retail store like Walmart®. USPS has a $1,000 limit on money orders so it's not an option for very large payments. But if you're paying less than $1,000, then a money order might be a good substitute for a cashier's check.