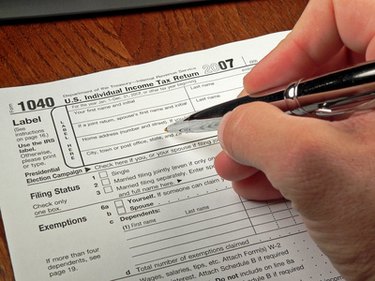 The Internal Revenue Service (IRS) offers free e-file to income tax filers, which allows you to submit your tax return electronically. This service is only available until Oct. 15 of the year the taxes are due, so filers must mail late returns manually to the IRS. Additionally, individuals who do not wish to use the e-file service or prefer to fill out their tax forms manually may still mail paper copies of their return. All tax return forms including Form 1040, 1040A and 1040EZ may be mailed, but each form must be mailed to a different address.
Step 1
Use the mailing envelope included with the packet of forms and booklets sent to you by the IRS. This envelope will automatically have the correct mailing address associated with your form and state of residence. If you do not have a preprinted envelope, write the address associated with your state listed on the back cover of the instructions matching your tax return form (see Resources).
Step 2
Include your return form (1040, 1040A or 1040EZ), any attachments (such as Schedule A for itemized deductions) and all W-2s and 1099s received from employers, companies for whom you did work and other income sources. Staple all documents together in numerical order according to the attachment sequence number printed on the top right of every form. If you are enclosing payment, do not staple your payment to the forms.
Step 3
Affix sufficient postage to the front of the envelope. One stamp will not be enough if your envelope weighs more than 1 oz., which is possible if you are filing numerous forms. Insufficient postage will result in the filing returning to you, which may delay your filing date. You are responsible for any fees associated with filing a late return even if you attempted to mail the packet before April 15.
Step 4
Use an IRS-approved private delivery service (which includes only DHL, UPS and FedEx) if you cannot meet the filing deadline using the United States Postal Service.
Tip
Verify that you are using the correct address before sending the form. There is a unique address based on your state of residence, the form you are sending and whether or not you are enclosing a payment. Errors on the address may delay acceptance of your filing, which may result in a late filing and any associated fees.
You may still use an electronic tax preparing service that offers e-file without actually electronically filing your return. Rather than choosing the e-file option, print your return and mail the packet to the IRS.
Warning
Your filing date is typically the date of the postmark on your filing envelope. However, errors in your return, such as incorrect identifying information, missing forms or insufficiently completed forms, may delay acceptance of your return. If these errors are not corrected before the April 15 deadline, it is possible that the IRS will mark your tax return late. Always complete your return in advance of the deadline to avoid any unforeseen delays.