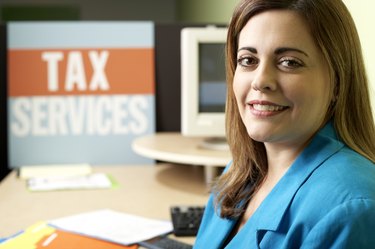 IRS transcripts enable taxpayers to obtain a record of their tax filings or subsequent adjustments to their return. Many lending companies and universities require tax transcripts as a way to verify income. Obtaining a copy of your IRS transcript is relatively easy, but understanding the codes listed on the transcript can prove more difficult.
Step 1
Verify that the account transcript suits your specific needs. A tax transcript is a line-by-line reprint of your original return whereas an account transcript includes both the original return information and any subsequent changes. The account transcripts provide critical dates such as the date you filed the return, the payments you made and additional assessed taxes. Account transcripts also indicate whether the tax return was filed by a taxpayer or was filed by the IRS as a substitute return for the taxpayer. Substitute returns are usually filed when a taxpayer earned income above the amount required to file but did not file a return. However, if you only need proof that your return was filed or verification of income, a tax transcript should suffice.
Step 2
Obtain a copy of your transcript by calling the IRS at 1-800-829-1040 between the hours of 7 a.m. to 10 p.m. or by completing IRS Form 4506-T and mailing it to the IRS. Allow at least two weeks to receive your transcript copies in the mail.
Step 3
Use your knowledge of the IRS coding system to quickly determine which transaction codes belong to which family of codes. For example, if you are ordering your transcript because you believe the IRS neglected to send you the refund they owed you, then look for three-digit transaction codes beginning with 84X because this family of codes indicates a refund was issued. If you were assessed penalty for tax fraud or disallowed a credit due to fraud, search for codes beginning with 9XX because this family of code indicates an IRS criminal investigation. Similarly, codes beginning in 29X indicate a tax increase or decrease, codes beginning with 42X reference the initiation of an audit and codes beginning with 52X indicate a bankruptcy.
Step 4
Decode your transcript. The system of family codes will help you understand your transcript, but some codes are stand-alone codes and are not included as part of that system. The following codes are the most common transaction codes that do not fall within the family of definitions previously outlined: A transaction code of 150 means a return was filed, 300 is tax assessed as the result of an audit, 320 is a fraud penalty, and transaction 460 is an approved extension of time to file.