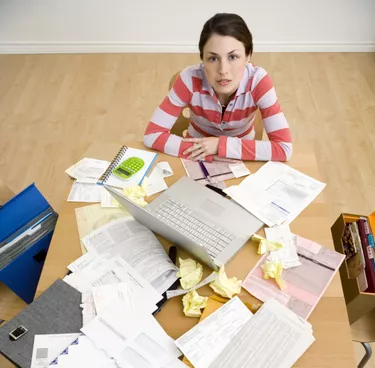 An IRS transcript is a line-by-line report of specific items related to your Internal Revenue Service account. Several different transcripts are available, including account transcripts, return transcripts and wage and income transcripts. You can order one or all of these free transcripts, depending on the type of IRS account information you need.
Account Transcript
An account transcript details action-based activity on your IRS account. You can use an account transcript to verify the processing date of your tax return and the dates on which payments you make to the IRS are applied. If you have a tax liability, the transcript will also detail the dates and amounts of penalty and interest accruals on your account. Order an account transcript if you have questions related to payments, balances, refunds or return processing for any tax period within the past 10 years.
Return Transcript
A return transcript is a line-by-line record of a return you previously filed with the IRS. The transcript includes income you reported, the schedules the items were reported on and applicable spouse and dependent information. If you lost your copy of a prior year's return and need proof of income, tax or refund information, this transcript serves as verification of return items processed by the IRS. Return transcripts are generally available for the last three tax years on record. Return transcripts are free, but if you need an actual copy of a return you filed, you must pay a $57 fee for each year's transcript that you want.
Wage and Income Transcripts
Wage and income transcripts contain income forms reported to the IRS under your Social Security number by third parties. A wage and income transcript contains items such as W-2 wage information, 1099 income, mortgage and bank interest paid or received and retirement distribution income. If you lose documents that you need to file an outstanding return, request this transcript to obtain information you must claim on your outstanding return. Wage and income information is available for the past 10 tax years.
Ordering Transcripts
You can order these free transcripts by calling the IRS at 800-908-9946, by preparing and mailing IRS Form 4506-T (Request for Transcript of Tax Return) or by visiting your local office in person to request the information. In addition to these methods, the IRS offers an online ordering tool to request tax return and account transcripts. The IRS separates transcripts by period, and you must request a transcript for each year you want information for. For example, if you want wage and income information for 2007 and 2008, you must specifically request those years. In this scenario, the IRS sends you two transcripts -- one set for each year.