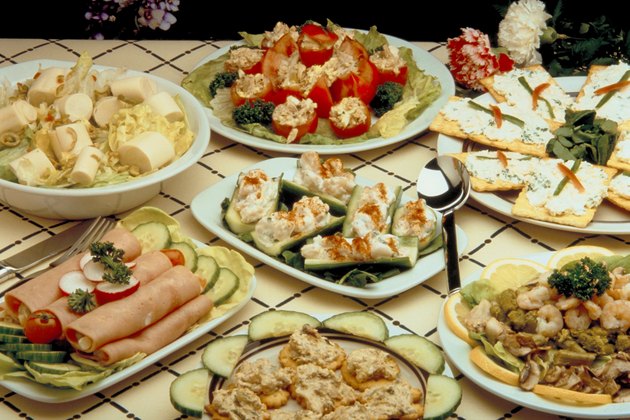 Creating a menu and preparing food for a party can be a time-consuming and expensive task. To make things less frustrating, plan for simple foods that are easy to prepare. From main dishes to snacks and desserts, a variety of cheap and easy party foods can be served at your next party. Although they require less time and money on the part of the hostess, they will still be enjoyable for the party guests.
Main Dishes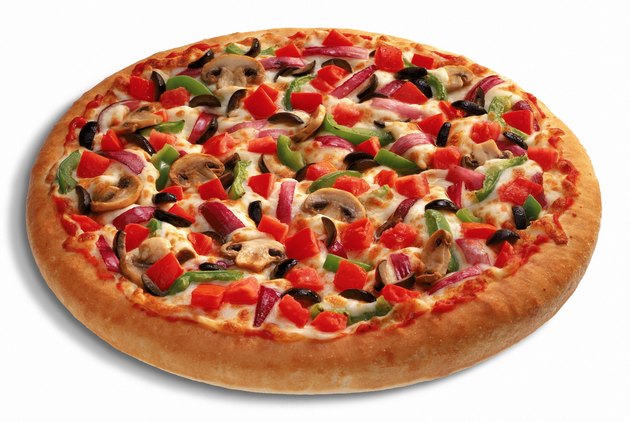 Ask your guests to help with the main dish by hosting a make-your-own pizza party. As the hostess, you will simply need to provide the ingredients and an oven. Purchase personal-sized pizza crusts for each guest. Or, for a cheaper option, make your own pizza dough and divide it into small sections for each person. Provide a variety of cheap pizza toppings, including pizza sauce, shredded cheese, pepperoni, sausage, green peppers, olives, mushrooms, spinach and onions. Party guests will assemble their own pizzas, place them in the oven and keep an eye on them until they are done.
Chili is relatively easy and cheap. It requires only a few simple ingredients and very little time to make. In most cases, the most economical meat to use is ground beef or turkey. Simply brown the meat and drain the grease. Then, add the meat to a large pot with chili beans, tomato sauce and chili seasonings. Mix thoroughly and allow the chili to simmer slowly, stirring occasionally. Offer guests toppings such as minced onions, crackers and shredded cheese.
Sides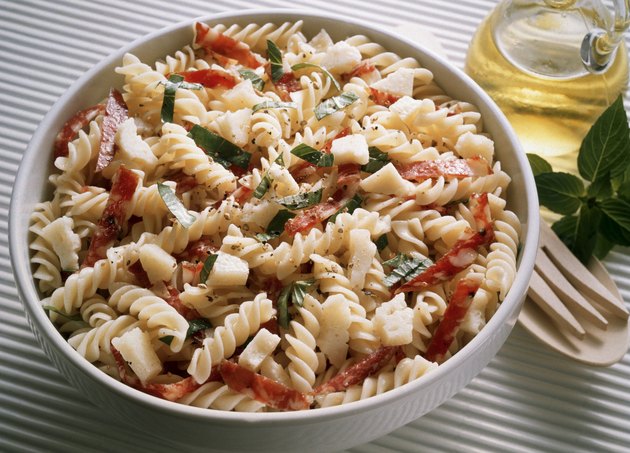 Pasta salad is easy to make and extremely versatile. A variety of noodles can be used in pasta salad, and pasta noodles are quite affordable. For a pasta salad, use a smaller noodle, such as elbow macaroni or rigatoni. Cook the noodles according to the package directions and then drain. While the noodles are still warm, coat them with your favorite salad dressing. Add any of the following ingredients to the pasta: shredded carrots, cherry tomatoes, broccoli, shredded cheese, chickpeas, bacon bits and black olives. Nearly any vegetable can be added for a tasty salad.
Dips are easy to make, and the ingredients are inexpensive. To provide party guests with plenty of assortment, make a variety of dips, and serve them with several different chips and vegetables.
For a Mexican cheese dip, combine chunky salsa with sour cream and shredded Mexican cheese. For a bean dip, combine refried beans with cheddar cheese and salsa. Serve both dips warm with tortilla chips.
Desserts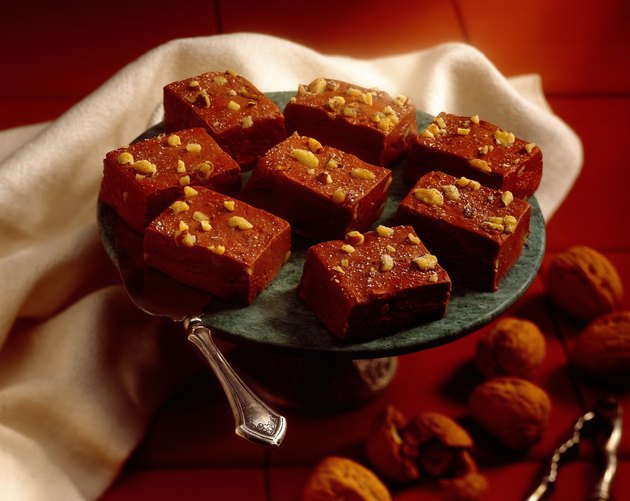 Brownies are a cheap dessert option and are easy to make. To save time, purchase a packaged brownie mix and bake according to the package directions. Once the brownies have cooled after baking, simply add frosting on top and cut into bite-sized pieces. If desired, decorate with sprinkles or chocolate chips.
For a healthier option, serve apple slices with caramel dip. Apples are one of the cheapest fruits you can purchase. Buy a large bag of apples and slice them. Arrange them on a serving tray. For the caramel dip, purchase a jar of caramel sauce and warm it up in the microwave. Serve with the apple slices for a sweet and easy dessert.