When you need to send money to someone quickly, then a wire transfer is generally your best option. This payment method transfers funds from your account to the recipient's account via an intermediary such as the Federal Reserve Wire Network for domestic transfers or SWIFT if you're sending money internationally. Most payments go through without a hitch. If the recipient hasn't received the money by the expected time, you can check what's happening with a simple phone call.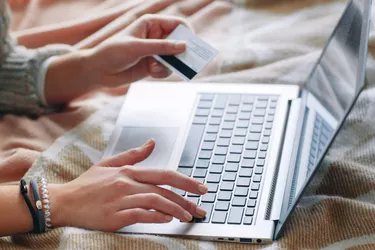 How Long Do Wire Transfers Take?
The money is debited from your account as soon as you authorize the transfer and generally, the transaction will be completed within 24 to 48 hours. Many African countries and other countries, including Vietnam, Cuba and Afghanistan, are designated as "slow to pay;" your bank can provide you with a complete list. If you're sending money to or from these countries, be prepared to wait a little longer for the money to go through. Holidays can disrupt wire transfers, too. It's a good idea to ask the bank how long the wire will take so you have an expected arrival date.
Trace the Wire
If the wire doesn't land by the expected date, call the bank. Ask the representative to trace the wire. Wire transfers generally pass through the Federal Reserve Wire Network (Fedwire), the Clearing House Interbank Payments System (CHIPS) or the Society for Worldwide Interbank Financial Telecommunication (SWIFT), and the bank can track the money through these systems to find the status of the payment. Give your confirmation number for the transaction, the amount debited from your account for the transaction as well as the routing or SWIFT number and account numbers for the destination account, and then wait for the bank to resolve your inquiry.
Recall the Wire
Usually, when a wire transfer is taking longer than expected, it's just a brief delay. Maybe a clerk made a mistake during manual processing, delaying the wire by a day or two. Be patient, it usually gets there eventually! Sometimes, though, there's a major error and the money winds up in the wrong account. In this scenario, it's essential you speak to the bank. The transfer is available for recall until the point that the receiving bank accepts it; generally, the transfer can be stopped and reversed so you can redirect the funds to the correct account.
If You Are the Recipient
If you're expecting a wire transfer to arrive in your account, call your own bank for a status update. Give the representative the transfer amount and details of the account where the money is coming from; ideally, you'll have the sending bank's SWIFT number or International Bank Account Number (IBAN), which the bank can use to identify the sender's account. The representative will be able to check the system and find out whether a deposit to your account is pending.