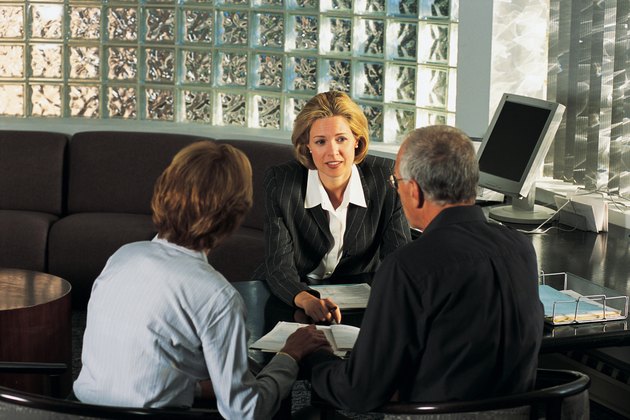 Through the United States Department of Agriculture (USDA) Rural Development home loan program, home buyers can take out mortgages without having to make a down payment. The home loans through the USDA program also allow buyers to rely on financial gifts from any source, including family members or friends, to cover closing costs. To qualify for one of these loans, though, you'll have to meet certain requirements.
Step 1
Provide proof to your lender that your gross monthly income is high enough and your debt level low enough to afford your new mortgage payments. (You will work through a bank or lender; the USDA insures its Rural Development loans, but does not originate them directly.) Make copies of your two most recent federal income tax returns, last two months' worth of paychecks, credit card statements, other loan statements, retirement savings account statements and savings and checking account statements.
Step 2
Call a mortgage lender and explain that you are interested in applying for a mortgage loan insured by the USDA.
Step 3
Make sure that you meet the requirements of a USDA loan: You must occupy the home you are buying as your primary residence; you must be able to demonstrate that you have a stable source of income; and you must purchase a home in a Rural Development-eligible area. You can determine if the home you want to buy is in one of these areas either by asking your lender or checking the address at the USDA home loans site, a link to which is provided in the "References" section of this story.
Step 4
Give your lender permission to run a credit check on you and any co-borrower. This will provide your bank or lender with your three-digit FICO or credit score. This number tells your lender how well you manage your money. If you routinely miss credit card payments or have defaulted on loans in the past, your credit score will drop. Lenders don't like to work with borrowers whose scores are under 620. They provide the lowest interest rates to those borrowers whose FICO scores are at 740 or above.
Step 5
Send the copies you made in Step 1 to your lender. Your lender will use them to determine your debt-to-income ratio. Lenders generally want borrowers to have monthly debt obligations that are no more than 36 percent of their gross monthly income.
Step 6
Agree on a closing date for your USDA-insured loan if your lender approves your application. You'll then sign the papers to make your loan official and pay any origination fees.
Things You'll Need
Copies of your two most recent federal income tax statements

Copies of your last two months' worth of paychecks

Copies of your credit card statements

Copies of your auto, student, personal or other loan statements

Copies of your savings and checking account statements

Copies of any retirement savings account statements