Homeowners have many insurance companies to choose from when it comes to insurance policies for their homes. These insurance companies compete for consumers' business by offering the lowest rates for the best coverage. Nationwide, Allstate and State Farm are three of the largest companies that provide homeowners insurance for houses, condos and manufactured homes. No matter what the type of living arrangements, these companies offer comprehensive coverage.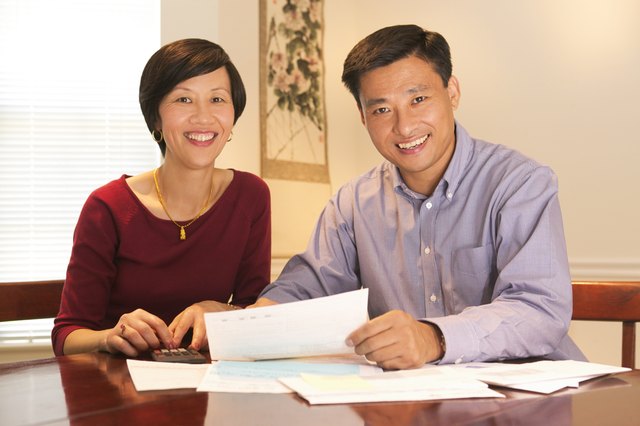 credit: Thinkstock/Comstock/Getty Images
The Nationwide Insurance Company
Nationwide claims to be on your side by providing homeowners the best coverage. This is a company that has been in business for over 80 years and offers coverage for houses, condos and mobile homes. The basic coverage for homes covers fire, lightning, theft, vandalism, windstorm, hail, smoke damage, falling objects and damage by vehicles. The policies that Nationwide writes also cover personal liability, medical expenses for persons injured on your property, accidental death benefits and cost of defending claims against the homeowner. Discounts are offered for having fire alarms, burglar alarms, fire extinguishers, sprinkler systems and deadbolt locks for entry doors. The Nationwide policies are tailored to fit the specific needs of homeowners. Nationwide has telephone agents available to give interested homeowners a free quote.
The Nationwide Insurance Company (877) 669-6877 nationwide.com
The Allstate Insurance Company
Allstate offers homeowner insurance to protect owners, their homes and their property. Policies are written for condos, houses including garages and detached sheds, and manufactured homes. Allstate has basic insurance that covers smoke, wind, hail, frozen plumbing, theft, vandalism, weight of ice and snow and explosions. Flood and earthquakes are typically excluded from the homeowners policies and things such as fungus, mold, wet rot and bacteria also are not covered. Structure, personal property, liability and guest medical coverage are included in these basic policies. Allstate has agents available to speak with homeowners and give quotes on types of coverage.
The Allstate Insurance Company (866) 726-2814 allstate.com
The State Farm Insurance Company
State Farm offers homeowners insurance for houses, manufactured homes and condos. This company has been writing insurance policies for over 60 years and insures over 13 million homes. They offer competitive rates and comprehensive polices. The basic homeowners policies cover wind, hail, snow build-up, fire, smoke damage, theft and vandalism. These policies cover liability to another person or his property and provides living allowances for loss of dwelling. Basic policies do not cover flood, earthquake, mold, mildew or fungus. State Farm has agents available to answer questions and give quotes.
The State Farm Insurance Company statefarm.com