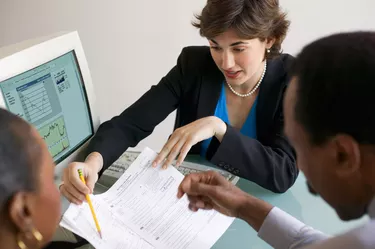 Based in New York City, Oppenheimer Funds Inc. is an investment firm that provides financial advisory services and portfolio management to individuals, companies, trusts, charitable organizations and institutions. They are also one of the largest mutual fund companies in the United States; according to Mutual Fund Directory, they had more than ​$40 billion​ in assets under management as of March 2021. Anyone who has an account with Oppenheimer Funds should understand how to access their accounts and make withdrawals as needed.
Oppenheimer Funds/Invesco
According to Citywire USA, Oppenheimer merged with the independent investment management firm Invesco in 2019, and Invesco removed the other company's name from ​42​ of their funds last September. The other funds will keep their names, as well as their investment strategies and management teams. Both companies still maintain their own websites, and many of the funds are designated as "Invesco Oppenheimer Funds."
If you have an account with Oppenheimer, you can click on their website to get an Oppenheimer funds withdrawal form for the type of account you have. You will have to fill in your account information, the reason for the requested distribution and the type of distribution. There may be a mandatory ​20 percent​ withholding tax on certain distributions; if yours is not subject to that, they will withhold ​10 percent​. Your monies can be automatically deposited into your checking or savings account, or you can ask for another mode of payment.
Oppenheimer Fees to Consider
All investment firms charge fees for their services, and this is public information that they share on their websites. If you have an online account with them, you can go to the Oppenheimer funds login page, enter your username and password and navigate to the page that shows an overview of their fees. If you have an Oppenheimer account but have not set up online access, you'll have to contact your representative to get started.
They offer a range of investment products, and the Oppenheimer fees for these vary. For example, a fixed annuity purchase costs you a deposit-based commission ranging from ​0.50​ to ​2​ percent, while transaction costs for closed-end mutual fund services range from ​0.50​ to ​5​ percent. There are also account maintenance charges, like ​$60​ a year for IRA account custodial fees. You will also pay small fees for wire transfers, returned and stop payment checks and a processing fee to change beneficiaries. In essence, account owners pay commissions, markups, markdowns, sales charges and other fees for every transaction that is made, including withdrawals.
Withdrawing Money From Oppenheimer
Most of the funds that Oppenheimer offers to individuals can be purchased as A, B or C shares. The A shares come with an upfront sales charge; B shares include contingent deferred sales charges (paid to Oppenheimer when funds are sold within specified time periods); C shares also have deferred sales charges but these are smaller and paid to Oppenheimer sooner.
To withdraw A share purchases, liquidate them and you will not have to pay fees because you paid upfront sales charges. If you want to sell B shares, you should wait for six years because, if you unload them sooner, there will be penalty fees. B shares convert into A shares after six years. You can sell C shares after one year and not have to pay withdrawal fees, because their deferred sales fee of ​1 percent​ disappears after a year.