If you have a life insurance policy, it may stay with you all your life. But you may also decide to replace that policy with another one because of its perceived benefits over your existing policy. If you depend on the advice of your insurance agent, you may actually realize benefits with a new policy. If the agent, however, twists the truth by misrepresenting these benefits – in a move called "insurance twisting" – it may be to your financial detriment to switch policies.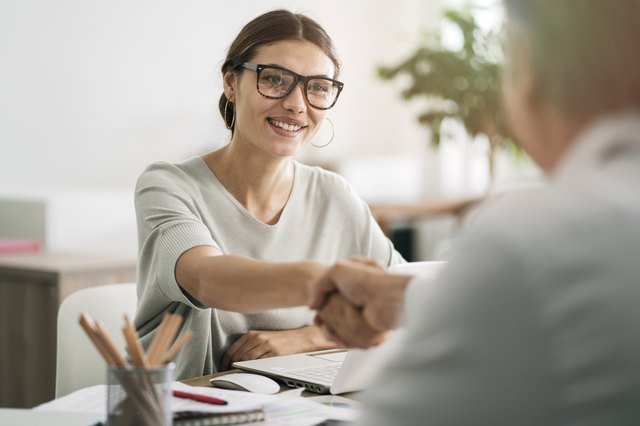 credit: seb_ra/iStock/GettyImages
Insurance Twisting Practice
Insurance agents have a duty to help their clients choose a policy that's best suited to their needs. Policies vary in their benefits, and there's not a one-size-fits-all policy for each policyholder. Because of the subtleties that exist among different types of policies, periodic updates to policies and new policies that make their debuts, agents must keep abreast of all these changes to help their clients make informed decisions. Agents are essentially "selling" insurance policies, for which they typically receive commissions.
An agent who has his eye on the bottom line of profiting from a higher commission may advise a client to drop an existing policy and replace it with another policy by misrepresenting the details of the two policies. And that's when twisting by insurance happens.
Examples of Twisting in Insurance
An insurance agent can commit the offense of twisting in insurance by communicating any untruthfulness when comparing the merits of two policies. Anything that is misleading, even an embellished illustration or exaggerated benefit, is insurance twisting. An agent may even commit insurance twisting by omission – not telling the "whole truth" about a policy.
Insurance Twisting Vs. Insurance Churning
Although twisting and churning sound more like violent wind and water weather terms, they're also insurance terms that describe drastic shifts in policies. Twisting is the act of replacing an existing policy with a new policy in an agent's attempt to increase his profits at the detriment of the policyholder. Churning, however, describes the changing of a policy's coverage by deception or misrepresentation.
Twisting in Insurance Is Illegal
Misrepresentation, whether oral or written, is a significant and ongoing problem that often dogs the insurance industry in the form of litigation. To be fair, misrepresentation – including insurance twisting – is often unintentional. Agents may believe they are being completely truthful without making any attempt to hide the facts from their clients. Unfortunately, this doesn't legally excuse them from their actions.
Agents are legally held accountable for their actions, regardless of intent, because of legislation that doesn't support their ignorance as a defense for unintentional misrepresentation. Violators may be fined for willful and nonwillful offenses, in amounts that typically are higher for willful offenses. They may also be charged with a first-degree misdemeanor for fraudulent conduct.
What You Can Do
If your insurance agent recommends that you cancel your existing life insurance policy and obtain a new policy, it's not necessarily time to raise the red flag – but it could be. It's definitely time to review the details of each policy carefully. And it's completely okay to ask your agent how the shift in policies affects her commission.
If you've already changed policies, and you suffered a financial loss because of it, you may be able to file a claim and receive damages. State laws vary, so be sure to talk to your attorney about the best course of action if you're the victim of insurance twisting.