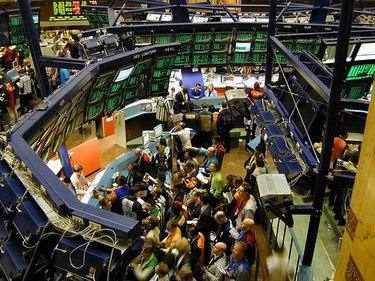 Do you panic when you hear that the Dow fell but aren't really sure what that means? The Dow is a historic and ongoing stock market and economic indicator.
History
Charles Dow introduced the industrial average, which is named for him, in 1896. Because investors had trouble determining the confusing market shifts, Dow created his average as an overall indicator. His original average began in 1884, based predominantly on railroad stocks.
Function
The Dow is also known as the Dow Jones Industrial Average, or Dow 30. It is made up of 30 blue-chip stocks of companies deemed to be leaders in their respective industries.
Composition
The 30 stocks that make up the Dow represent every important industry except for transportation and utilities, both of which split away from the Industrial Average in the early 20th century. Today, in addition to the Industrial Average, there is the Dow Jones Transportation Average and the Dow Jones Utility Average.
Components
Some of the current companies represented in the Dow include McDonald's, Pfizer, AT&T, Chevron, Verizon, Wal-Mart, Proctor & Gamble and Home Depot. See the link in the Resource Section for the complete list.
Growth and Records
The '90s saw the greatest growth in the Dow, moving up from 3,000 to over 10,000 in that decade. The high-water mark for the average is 14,164, set on April 7, 2008.