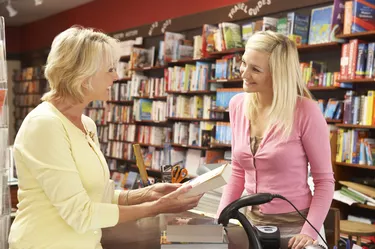 Barnes & Noble, with 661 retail bookstores and 700 college bookstores as of 2014 and an e-book market for its NOOK reader, holds a preeminent position in the media marketplace. However, in spite of its dominant position, the bookseller faces serious challenges as it looks to the future. The strategic decisions Barnes & Noble management makes now will determine its profitability and longevity.
Strengths
A well-established company with market capitalization of more than a billion dollars, Barnes & Nobel ranks among the Fortune 500. By selling books, e-books, magazines, CDs and DVDs, Barnes & Noble positioned itself to be a one-stop media outlet. The company partnered with Starbucks to transform its stores into community gathering places. Its online sales are growing and are becoming a more significant portion of total sales. Barnes & Noble also publishes physical books, which generates increased profit margins by bypassing independent publishers.
Weaknesses
Rent and other expenses connected with maintaining brick-and-mortar stores are a drain on Barnes & Noble's cash flow. Lackluster performance has reduced financial reserves, and the bookseller must be profitable to survive in the long run. A promising partnership with Microsoft, which would have pumped $600 million into Barnes & Noble e-book production to make them available on Microsoft-based platforms, was scaled back in 2013 as NOOK sales did not meet expectations and Microsoft faced weaker sales with its tablets and smart phones.
Opportunities
The recovery from the worst recession since World War II has been difficult, but as the economy improves, sales of media are likely to increase. Growing e-sales can broaden Barnes & Noble's reach beyond its traditionals markets – both geographic and product – and give it a greater presence in other countries. The college market offers growth opportunities for Barnes & Noble if schools continue to outsource their bookstore management. The retail store layout makes the stores inviting places to have a cup of coffee with friends. This is an opportunity if Barnes & Noble can convert the traffic into customers.
Threats
The book marketplace has undergone changes whose repercussions have not yet been entirely felt. In 2011, Borders, one of Barnes & Noble's major competitors, filed for bankruptcy and liquidated its assets. While that put Barnes & Noble in a stronger position in the short run, the bankruptcy suggests that the brick-and-mortar segment of the market may be in trouble as reading habits of the public change. Although Barnes & Noble has made inroads into online and e-book sales, Amazon, which is unencumbered with real estate, remains a formidable competitor. Netflix and iTunes also pose competitive threats to CD and DVD sales. Even libraries pose threats as they make more e-books available to their patrons.