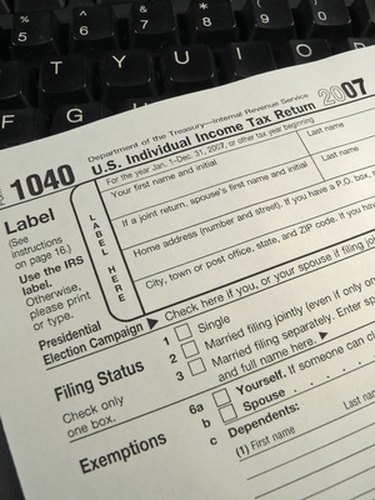 It takes about 48 hours for the Internal Revenue Service, or IRS, to receive an electronically filed return, and two to three weeks before IRS begins processing a mailed-in return. After both respective time frames have elapsed, it is fairly easy to determine the status of your income tax return. You can use two techniques to obtain updates on submitted income tax return.
How to Track an Income Tax Return
Step 1
Call the IRS customer service line at 1-800-829-1040 and request a status update. A customer service representative will advise you of your expected refund date, your balance due amount, or any changes made to your return. The IRS help line is open from 7 a.m. to 10 p.m. Monday through Friday, local time. You are free to call the IRS customer service line as many times as necessary to track your return. Keep in mind that IRS databases are updated only once a week, so it is unnecessary to make multiple calls during the same week.
Step 2
Log on to the IRS.gov website, and click the "Where's My Refund" hyperlink. The link will take you to the refund tracking page, which prompts you to enter the expected refund amount, Social Security number, and filing status (single, married filing jointly, married filing separately, head of household, or widow). Once the required security questions have been answered, a new screen will provide you with the status of your tax return. Bear in mind that the status reflected online is only an estimate. If the IRS needs additional information from you, or if there is a problem with the return, you will be contacted by mail. Remember, the IRS never sends emails to request tax information. If you receive an email requesting your personal tax information, forward it to the IRS.
Step 3
Go to an IRS walk-in office to request the status of your income tax return. Be sure to call the walk-in office before actually going, because some offices require taxpayers to set up an appointment. The IRS will request a picture identification before accessing your account, so be sure to carry your state driver's license or U.S. passport with you to the walk-in office in your locale.
Step 4
If all else fails, write the IRS to request a status for your return. The IRS will respond with a letter advising you of the date your return was received, and the status of the return.
Things You'll Need
Phone

Identification

Transportation

Computer